Profile - Curtis (Motor Sports)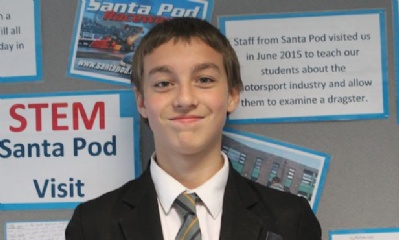 A profile piece on Curtis' work experience placement at Max Velocity Ltd.
Name: Curtis
Where did you go on your work experience placement?
Max Velocity Ltd c/o Rockingham Speedway
Why did you choose this placement?
I have a strong interest in the motor sports industry.
How did you find the placement?
My mum's friend works at Rockingham so I enquired to see if I could complete my work placement in their simulator experience section.
What were your main duties?
I was responsible for a range of tasks from researching paint and vinyls for the cars to logistics work such as finding out how to get one of the cars to Abu Dhabi and corresponding with route logistics. I also worked on the tills and dealt with customers face to face as well as helping the company prepare for race day.
What was your favourite thing about the placement?
I actually cleaned Lewis Hamilton's 2010 Notcot car. That was pretty cool.
What skills have you gained from the placement?
I have gained communication skills, knowledge of logistics and other companies, as well as gaining experience of dealing with customers face-to-face.
Has it helped you decide on your career?
I would still love to become a professional racing driver but I know it's a difficult industry to break into, however getting to see all the different jobs in the industry has confirmed that I would like to work in the motorsports sector.
I also now have a reference and have been offered the possibly of a paid part-time job at Rockingham Speedway off the back of my placement.