More Ambition For All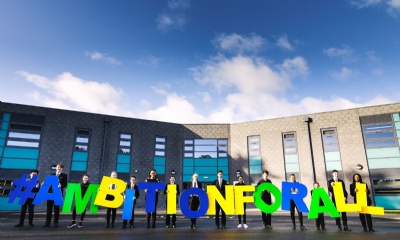 Students and staff at CTS are excited to be this month's torchbearer of the 'More Ambition For All' initiative, making us the second school in the Trust to launch the campaign this year.
Each of our departments have planned a series of events for every student to get involved in.
Already, auditions have taken place for our drama department's annual production. This will be the first time the school has performed a musical and the department are very excited for the ambitious challenge. The cast have just been announced and we are looking forward to rehearsals getting underway this week.
As a technical school we are very passionate about exposing our students to the types of jobs that exist within the industry and organise many technical themed events throughout the year. This month our Year 7 students will experience a trip to Festo, a worldwide supplier of automation technology, based in Northampton. The trip will allow our Year 7 students to gain a real insight into the industry by talking to staff, learning about the technology the company uses and taking part in practical workshops.
The art department will getting creative participating in The Big Draw Festival; a national event that believes everyone can draw and should have access to the benefits of drawing. The students will have a dedicated day for the initiative and will be given a cross-curriculum drawing task in each of their lessons relating to the topic they are studying.
Mental Health Awareness day also falls during our month and as a TaMHS (Targeting Mental Health in School) we put a huge focus on raising awareness of the topic. The day gives us an opportunity to ensure our students are comfortable talking about their mental health and know who to talk to should they need support.
As well as all these events, we have many more activities taking place in our other departments across the school. The PE department will be holding a variety of competitions and will expose students to a variety of sports. Our student maths leaders will be showing their ambition as they deliver lessons to their peers. The Humanities department will have lessons focused on exploring inspirational heroes such as Nelson Mandela and David Attenborough and will be celebrating Black History month.
Principal Mrs Reynolds said: Last year was the first year the Trust organised the campaign and it was a great success. Our school like to use the month as a way of celebrating and highlighting all the amazing and ambitious things our staff and students do on a day-to-day basis and I am really looking forward to sharing this with you.'
The Ambition for All campaign is a single focus on improving academic outcomes and opportunities for character development that will run in all our Trust schools throughout this academic year. It applies to all areas of the Trust's school' operations to ensure students receive the highest quality teaching and wider development opportunities within a supportive and encouraging environment, where adults live and breather ambition for student success in all its forms.