Open Evenings for Year 6 Parents: October 9th and 11th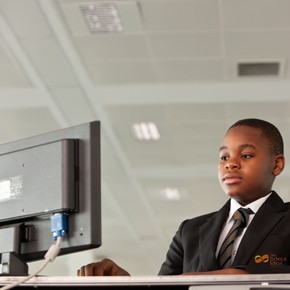 Corby Technical School is opening its doors to parents of Year 6 children in October.
Open Evenings are being held on October 9th and 11th, with sessions at 6pm and 7pm.
This is an opportunity for parents to come and have a look around at Corby's newest school and hear about plans for our brand new building, which is planned to open on the current site in Cottingham Road in September 2013.
Principal Angela Reynolds said: "At Corby Technical School we are providing a well-rounded education for students that will give them the skills needed to move into technical fields.
"It's an exciting and innovative place to be and our status as a Brooke Weston Trust school allows us to share proven educational practices that the trust has developed over the years."
Parents who attend one of the sessions will be given a talk by the Principal, who will provide information about the school day, the curriculum and the STEM afternoon which takes place every Wednesday. This session, which is unique to Corby Technical School, focuses on science, technology, engineering and maths and helps our students to hone their skills in this area.
A prospectus will also be provided on the evening. No appointment is necessary for any of the sessions. Parents who cannot attend can call the school on 01536 213100 to arrange a tour on another date.
Parents should note that the deadline for applications to the local authority is October 31st.