17-02 Young engineers make gliders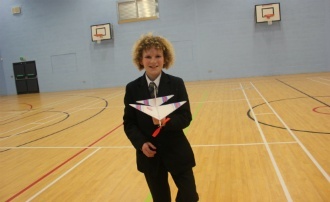 A group of our brightest young engineers are flying high following the success of their model gliders.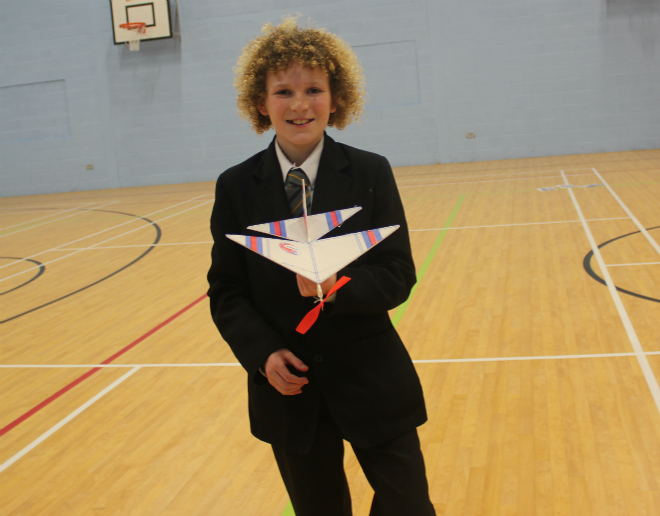 A group of our brightest young engineers are flying high following the success of their model gliders.
Members of our school's Model Flying Club have been working hard with mechanical engineer John Page after school to make the British Model Flying Association's dart.
Design and Technology teacher Nigel Barrett said: "It's quite challenging to make because the model is very delicate.
"The students did very well and they loved making their gliders. They were very passionate about the project and very excited."
Members of the club include a number of very enthusiastic students from Year 7.
Eden is in the early stages of the project but has flown some of her friends' gliders already.
She said: "I've only just started work on my glider and I've found it quite simple so far.
"I've cut out the wooden pieces and now I've got to stick them together.
"I'm quite excited to see mine fly because I've tried some of the gliders my friends have made and they were good."
Curtis is one of the students who have finished their gliders.
He said: "It was quite challenging to finish it within the time we had.
"When I first tried to fly mine its nose kept going down so I adjusted it by putting bits of plasticine in the middle and at the back and that corrected the problem.
"My glider went about seven metres up into the air.
"When I'm older I would like to train as a mechanic and go into the Armed Forces."
Taylor (pictured) said: "I found putting the glider together really interesting and mine flew really well straight away.
"It got quite high off the ground."
Jasmine added: "To begin with I found it difficult to make but I had some help and at the end it was easy.
"I was surprised to see my glider flying so well and I really enjoyed the project."
Bartosz also enjoyed the project and would like to go into engineering when he is older.
He said: "I found the project quite easy and it was very exciting when my glider flew because it went quite high.
"I like engineering very much."
Marcel added: "I really enjoyed making the glider and I was the first person to finish.
"My glider flew very well and very high. I can't wait for the next project."
To see more pictures of the students with their gliders click here