03-09 Young politicians win over voters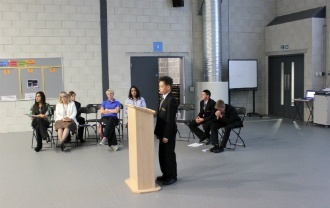 Our Year 9 students have begun the new term by showing off their political prowess.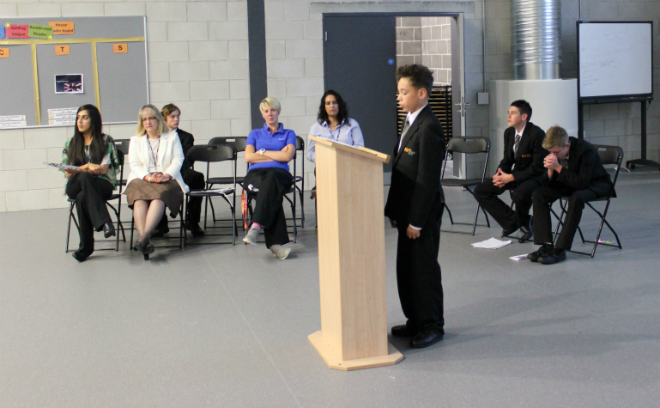 Our Year 9 students have begun the new term by showing off their political prowess.
The students were divided into three groups and each one was challenged to create its own political party and run a political campaign.
Over three days they had to produce policies relating to home affairs, foreign affairs and human rights, create a manifesto, elect party leaders and ministers and deliver speeches.
Director of English Markus Wilson said: "The students addressed big issues such as whether we should stay within the EU, immigration and the Scottish referendum and looked at the NHS, education, the welfare state, foreign aid and defence spending.
"It's the first time we've run this project and it was such a huge success we hope to run it again in the future.
"I was incredibly impressed with the quality of the speeches the students delivered."
The three parties were the Country Pride Party (CPP), Equality Together Party (ETP) and the Social Economic Equality Party (SEEP).
Following the campaigns staff and students were invited to vote for their favourite party.
The winning party was CPP which received 63 votes – 47% of the turnout.
Mr Wilson said: "CPP had very clever ideas about its policies and where it would make savings in the budget and where it would invest money.
"For example, it said it would increase child benefit for the first two children in a family to £25 each but after that it would stop. As a result they would cap the benefit at £50 which is the equivalent of 3.5 children under the old system.
"They calculated this would save £442m which they would invest into education to tackle health issues such as smoking and healthy eating.
"Theoretically this would save the NHS £4.2bn by reducing childhood health issues.
"They also said they would increase foreign aid and increase corporation tax.
"During the election process we also talked to the students about voting itself. We discussed that they could choose to vote, not to vote or to spoil their votes."
The sessions were delivered as part of the school's citizenship curriculum.
To see pictures of some of the students delivering their speeches click here