30-01 Education Secretary declares CTS inspirational after visit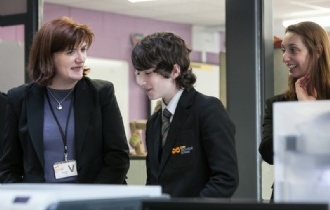 Corby Technical School welcomed Nicky Morgan into its classrooms on Friday, January 30th and demonstrated technical education at its best.
Corby Technical School welcomed Nicky Morgan into its classroom on Friday, January 30th and demonstrated technical education at its best.
Students gave the minister an insight into everyday school life at the pioneering school, as she witnessed a number of lessons and talked to them about their passion for technical subjects.
Representatives from one of the school's business links, multinational engineering firm Cummins, also spoke to the Education Secretary about its work with students on a Lego engine.
Mrs Morgan, who at the start of her visit watched an assembly about students work with virtual reality devices, said: "I think that Corby Technical School is fantastic. I have been very clear since I became Education Secretary of the need for schools to form strong links with the business community so that their young people develop the skills needs to succeed in working life.
"It is fantastic to see a free school such as Corby Technical School doing this. The fact it is oversubscribed shows what a good job it is doing and how inspirational it is."
She added: "It is clear how passionate the students are about their learning and today I have seen some examples of excellent and innovative technical education."
During her visit the minister spoke to students about some of the technical projects they have been involved in, such as designing models for a technologically advanced railway station. She also spoke to Year 9 student Jess who develops her own apps and builds websites. Year 9 student Dmitri showed the minister the work he has undertaken using a 3D printer.
Principal Angela Reynolds said: "We are thrilled that the Education Secretary wanted to come and see for herself the great work that is going on here at our school.
"We pride ourselves on having developed a finely tuned technical curriculum for our students, that will stand them in great stead for the emerging careers of the future.
"The Minister praised our dedication to giving students the technical skills needed to succeed and saw for herself the enthusiasm that students have for their learning."
Corby Technical School is rated Outstanding by Ofsted and is part of the Brooke Weston Trust group of schools. The Trust is about to submit a bid to the DfE for funds to increase the size of the school.