23-03 Our scientists explore National Space Centre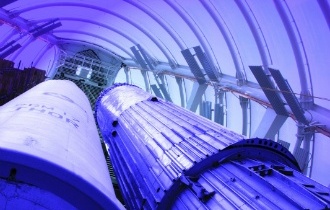 Nearly 50 of our Year 9 students visited the National Space Centre.
Nearly 50 of our Year 9 students visited the National Space Centre.
Our students have been studying the Earth, the Universe, the formation of the Solar System and rock formations and structures in their Science lessons and used the trip to deepen their understanding of the topic.
The National Space Centre also tailored two of their scientific workshops for our students.
CTS Director of Science Victoria Khan said: "The first workshop challenged our students to think about what they would need if they were to build a space station. They had to consider budgets and think about how the station could be used in the future to accommodate commercial space travel.
"The second workshop examined space bodies such as comets and meteors. Our students were asked what they would do to prevent a disaster if they discovered that a meteor was on an impact path with the Earth in the future.
"They were given a variety of different scenarios and had to work out how strong the impact would be based on the meteor's velocity and the impact zone and they had to establish what they would do in their given time frame.
"Our students really enjoyed the workshops and said they would recommend them."
The students also listened to a talk from a lecturer from the University of Leicester who had been involved with the Beagle 2 project.
(Pictured is the Rocket Tower at the National Space Centre. Credit National Space Centre, Leicester)