01-04 Engineers perform well at technology tournament
Our engineers won an award at a prestigious technology tournament.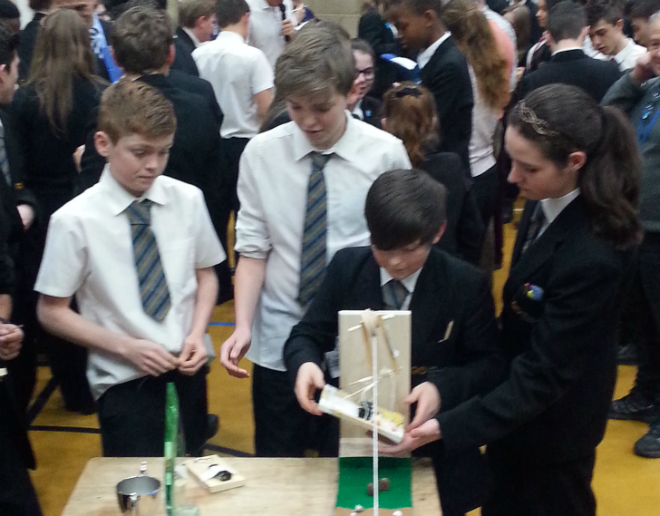 Our engineers won an award at a prestigious technology tournament.
Our Ducati team came third in the Foundation category of the 10th annual Rotary Technology Tournament which is open to all secondary schools in Northamptonshire.
The students were challenged to design, build and test a scale model of a motorised rescue vehicle which could move along a suspended cable – like a cable car – and deliver aid to stranded people.
The vehicle had to be able to move forwards and backwards and travel about 1.5 metres.
Design and Technology Teacher Rob Cooper said: "The students didn't know what to expect before they got to the competition.
"When they arrived they were presented with the challenge and they had to design and create the machine with only a limited amount of advice.
"We were particularly pleased with our Year 7 team because they have not started to study electronics yet but they managed to work out how to create a working vehicle all by themselves which was fantastic.
"All our students did very well and they can't wait to go again next year."
We entered three teams of four students from Years 7, 8 and 9 who competed against students from 15 other schools, including Sixth Formers.
Year 7 team members Lewis, 11, and Musa, 12, really enjoyed the challenge.
Lewis said: "The Rotarians told us this was the most challenging task they had done so far.
"I really enjoyed doing it and I thought we worked well together as a team. It also taught us how to work together under pressure."
Musa added: "I enjoyed the freedom we were given to be creative. We were allowed to make anything we wanted to as long as it completed the task.
"We definitely want to go again next year."
The event was organised by the Rotary Club of the Nene Valley and took place at Weston Favell Academy in Northampton during National Science Week.
The tournament is accredited by the British Science Association for CREST Discovery Awards.
The CREST Awards scheme is Britain's largest and most widely recognised national award scheme for project work in the STEM subjects (Science, Technology, Engineering and Maths). It is co-ordinated by the British Science Association, a charity which advances understanding, accessibility and accountability of the sciences and engineering.
The teams needed to have good communication skills, be well organised and able to show the stages of development of their task solution in a design portfolio.
Each team's working model was competitively tested and assessed by a team of judges.
To see more pictures from the event click here