03.09.12 - Corby Technical School Opened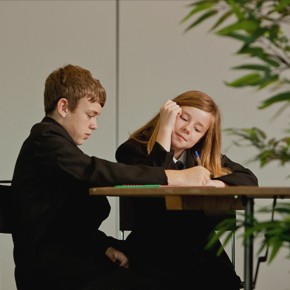 Corby Technical School opens its doors on Monday 3rd September amid much excitement from both staff and students.
A busy few months culminates this week when the first cohort of students start lessons at Corby's new school.
The school is operated by the Brooke Weston Trust in partnership with Tresham College of Further and Higher Education. Its curriculum has a strong technical bias to help students move into industries such as computer programming, engineering, architecture and electronics.
In its first year, the school is operating from a newly-refurbished building in Cottingham Road. This will be used until September 2013, when all students will move into the school's new building which is being constructed alongside the current premises.
Students and parents will have an important role in the school's development and growth, from student votes to parent mentoring during special projects and technology challenges.
Principal Angela Reynolds has already met the new students a number of times over the summer holidays and is keen to start working with them.
She said: "We're all looking forward to getting started and laying the foundations for Corby Technical School. These students are the school's pioneers so it's an exciting for them and for the school. Parents have been supportive of what we want to achieve here and we believe we can provide our students with the skills and qualifications to help them succeed while opening up opportunities for them."
The school's new building, which will cater for 475 students, will share many design features of the Brooke Weston Trust's other schools in Corby and Kettering. It will be a two-storey building with faculties located in wings, complete with a sports hall, technology area, library and a theatre. There will be glass-fronted classrooms designed for smaller class sizes. Future plans include a walkway between the new building and the Tresham campus that will enable better access for students attending the college as part of their studies.