17-07 Year 9 students explore Germany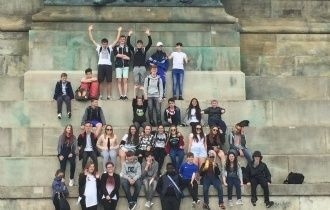 We had a fantastic time on our residential trip to Germany.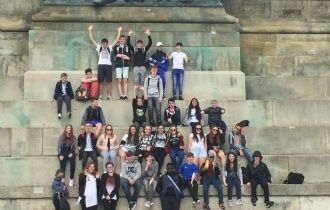 We had a fantastic time on our residential trip to Germany.
At the end of the summer term a group of our Year 9 students spent just under a week staying at a historic former fortress in Koblenz called Ehrenbreitstein Fortress.
During their visited they tried out their German language skills and experienced German culture.
CTS Principal Angela Reynolds said: "We were thrilled to be able to offer our Year 9 students this fantastic opportunity to experience German culture and develop their language skills.
"The trip was a huge success and was enjoyed by staff and students alike."
During the visit the students had a guided tour of the former fortress they were staying in which had been used by the military up until the start of the First World War.
They also toured Marksburg Castle which is the only castle on the Rhine to have never been destroyed or defeated.
The group visited Rudesheim and its world famous Siegfried's Mechanical Music Cabinet Museum which features a variety of fantastic instruments, including a chair that plays music when you sit on it.
They also took a cable car ride up to the Germania monument and spent their last day at Europe's largest theme park, Phantasialand.
To read our blog about the visit click here