Motorcycle master class is a Triumph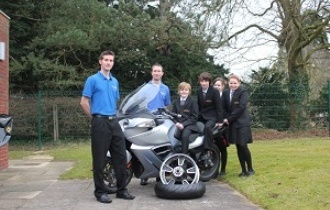 Students were given an insight into the world of motorcycle design during a visit by engineers from the country's biggest motorbike manufacturer.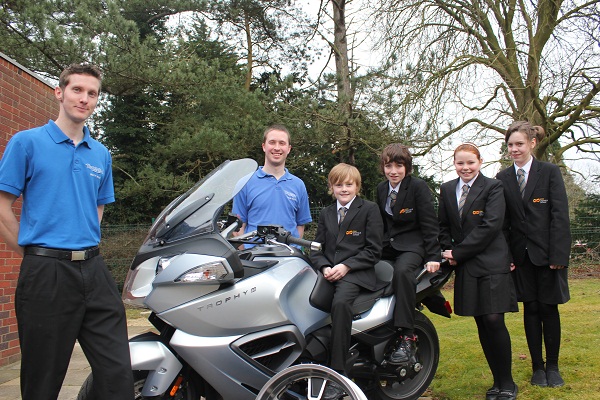 Students from Corby Technical School were given an insight into the world of motorcycle design during a visit by engineers from the country's biggest motorbike manufacturer.
Senior Design Engineers from Triumph Dave Child and Matt Silk had the Year 7 students enthralled during the visit as they explained the process of designing a motorcycle from scratch, before letting the students try out the Trophy touring bike they had bought along. As well as a selection of parts which students were asked to identify, there was also a Daytona 675 which was cut in half, allowing the students to see the inner workings of the bike, aspects of the frame and engine that they would not otherwise have seen. This was a very useful demonstration and allowed students to ask questions about the things they saw.
During the two-hour master class the students learned about how a motorbike is conceived, designed, manufactured and then sold.
The engineers explained how all ideas are led by market research, before an artist comes up with a design. A full-size clay model of the bike is then produced before it goes into design development, where many of the company's 300 engineers will become involved in its creation.
The engineers also spoke about what studies they had undertaken to enable them to become enter their chosen career field.
David Child told the students: " If you like Science and Maths then engineering is a good career to go into.
"On a daily basis we are asked to problem solve and get to work on things you enjoy, and in a job you just can't beat that. Engineering includes a wide range of disciplines and there are so many things that you can get involved in."
Director of Science, Victoria Khan said: "It is important that our students are given the opportunity to see that the theory thy study in school directly relates to the jobs people do, involving Science, Technology, Engineering and Maths (STEM). There are aspects of STEM in so many fields and in items that we use on a regular basis that the students are just not aware of. The importance of the Guest Speakers from Triumph was to open the minds of our students. To show them the paths and careers that STEM subjects can be linked with.
This session has built on their concepts of Science, and linked them to real world application."
Student Nicole Edgar said: "It was so interesting and I have learned a huge amount. I did not realise just how much work goes into the design of a motorbike."
The master class was part of the weekly STEM (Science, Technology, Engineering and Maths) sessions that take place at the school.
As a technical school, these sessions are one of the key curriculum features and already students have earned their Bronze Crest award and have also taken place in the Toyota STEM challenge.
Corby Technical School is part of the Brooke Weston Trust and opened in September 2012. Next academic year it will move into a brand new state of the art building adjacent to its current site in Cottingham Road, Corby.
Factfile
· Triumph first began manufacturing motorcycles in 1902.
· Last year the company sold 50,000 bikes, which equates to a finished bike coming off the production line every five and a half minutes.
· 700 staff are employed at the Triumph headquarters in Hinckley, Leicestershire.