Work on new building has started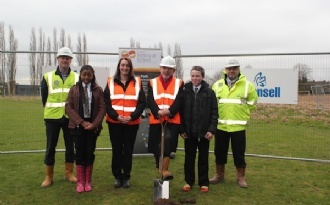 Chief Executive of the Brooke Weston Trust, Sir Peter Simpson, did the honours of digging the first sod.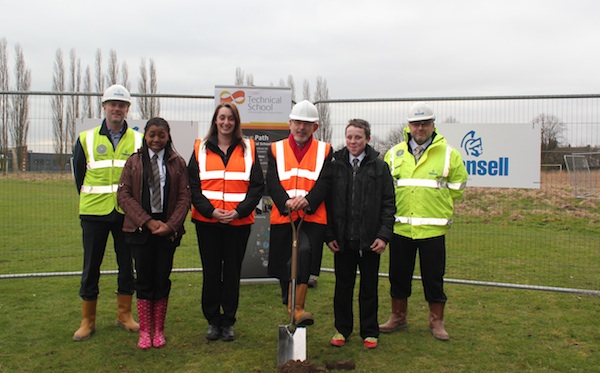 Building work has begun on our new building.
The school will be equipped with the latest learning equipment and technologies.
Contractors Mansell Balfour Beatty has been contracted by the Brooke Weston Trust to build the £6m school, which will open its doors during the next academic year (2013-14).
The two storey secondary school will house faculties situated in wings, together with a sports hall, technology area, library and theatre. Designed to cater for 475 pupils, the building will feature glass-fronted classrooms that accommodate smaller class sizes.
The theatre is being built due to a generous donation from the Weston Foundation.
Chief Executive of the Brooke Weston Trust Sir Peter Simpson did the honours of digging the first sod at the launch ceremony to commence the building work. He told the Year 7 students, who are currently taught in the former Firdale Centre: "This is a momentous day in the history of Corby Technical School.
"This new school building has been designed to allow you to explore every inch of your technical abilities.
"It represents the great investment in schools in the Corby area and will add to the already impressive group of secondary schools in the town."
Principal Angela Reynolds said: "The new building will be fantastic and one that our students will love to learn in. It is great to see construction work start and we cannot wait to move in. The new building will mean that we can develop our technical curriculum to its full potential."
At the sod cutting ceremony Mansell Balfour Beatty presented a model JCB and stainless steel shovel, which will be engraved and displayed in the new school building.
Ian Taylor, Delivery Unit Director at Balfour Beatty, said: "I am very excited to be able to deliver such a high profile project that will give local young people fantastic opportunities to establish their careers in the technical industry. I look forward to delivering this specialised facility on time, within budget and to an extremely high standard."