Students compete in National Archery Competition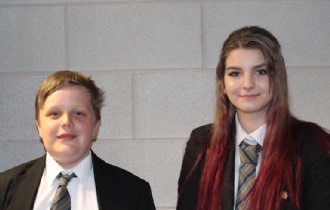 Two of our students, Iulia Petra and Thomas Marshall competed in the Junior National Archery competition over the weekend.
The pair both shot a total of 141 arrows over the two-day event, with the metric rounds taking place on Saturday and the imperial rounds on Sunday.
Thomas achieved third place for metric and fourth for imperial for his age group whilst Iulia achieved third place in both for hers.
Thomas who has participated in the sport for 5 years, 2 of those competitively said 'I attended the competition last year and achieved first and second place, however this year I have moved up to the under 14 age category so the level of competition has increased.
'Overall the competition was very fun but also stressful because of the planning that goes into it, it's the largest competition I have taken part in to date.'
Iulia said 'I originally became interested in archery after trying the sport out on a school trip. I then read the Hunger Game books and this made me want to take up archery even more. I have now only been doing it for 2 years and hope to take part in the World Championships next year.'