Design and Technology challenge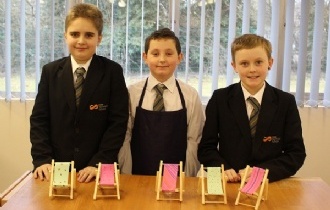 Class 7C reigned victorious in an inter-form Design and Technology team challenge.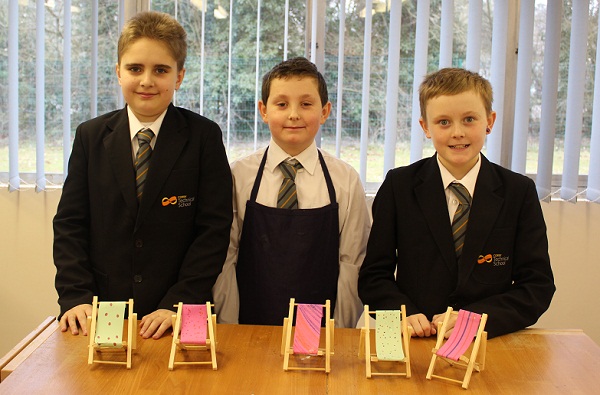 Class 7C reigned victorious in an inter-form design and technology team challenge.
Our three classes of Year 7 students were pitted against each other in the challenge which required them to make 12 identical mini deckchairs from scratch. The project was aimed at introducing the students to making products in batches using a production line.
Principal Angela Reynolds said: "The students were given a project brief and some raw materials. Then, with very little guidance, they were required to organise themselves and make the products".
"They delegated a manager and then split themselves into teams and discussed how they would set about making the product."
The students were given some lengths of wood and some dowel to manufacture the different component parts. The deckchair was assembled and finsihed off with a simple deckchair seat.
The challenge required them to cut the wood down to size, drill holes, file some leg rests and assemble the individual pieces together.
OIlie Steadman, who was the manager of 7C, said: "It was quite stressful as I had to oversee all areas and delegate new jobs to other students when they had finished".
"In the last 20 minutes everything came together and we managed to make some sturdy chairs."
Charlie Bull, who was part of the drilling team, said: "It was tricky as the wood was quite thin and so it was easy to break it when drilling. When we started off some of the holes were marked in the wrong place but we learned as we went along."
Sam Priestly, also of 7C said: "Oddly, what I enjoyed most about the project was how frantic it was. It was great to work as part of a team and work in the different sections."
At the end of the two-lesson event 7C had completed eight finished identical deckchairs, which meant they were crowned the winners.
Mrs Reynolds said: "The key to the success of 7C was that they came up with the idea of putting together a jig, so that they did not have to measure every single piece of wood. This was the idea of Sean Tanangonan and Josh James, and was copied throughout 7C, so that the process ran smoothly. This was quite an advanced concept for their age group and I was really pleased with how the teams did."