Student Kara nominated for Spirit of Corby Award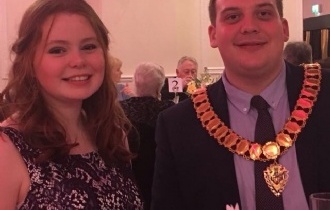 Year 12 student Kara has been nominated for the Spirit of Corby Award for her commitment to charity work.
The awards are presented to people and organisations chosen by Corby people to represent the best of our vibrant local community. Kara was recognised for her work by Corby's previous Mayor, Cllr Julie Riley who nominated her for the Young Spirit Award category.
Kara has always sung and often uses her gifted talent to help raise money for charity. She recently won Northamptonshire's Rising Star Award 2017 and gave the money to Cynthia Hospice.
She said 'During my time as Corby's carnival queen I started becoming a lot more involved in my charity work. I really enjoyed it and found great satisfaction in helping others. When I stepped down in March, I decided to try and do even more involved in charity work.'
'I have done everything from bag packing to singing at events and in care homes. Most recently I've ran a 5k race for the Cynthia Hospice.
'I was shocked to hear I had be nominated for the award. I never expected anything back from my charity work but its lovely to be recognised.'
Kara has now been shortlisted for the finals and people can vote for by clicking here.
The awards will be presented at a special awards night at the Corby Cube on Wednesday 20 September 2017.