Anti-Bullying Week 2017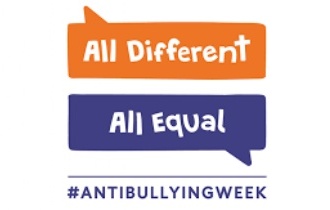 CTS will be raising awareness for anti-bullying week which runs from 13th-17th November 2017.
This week CTS are supporting anti-bullying week, a campaign run by the Anti-Bullying Alliance to raise awareness on bullying and encourage all children, teachers and parents to take action on bullying throughout the year.
This year the theme is: 'All Different, All Equal'.
Aims of the week:
Empower children and young people.
Celebrate what makes them, and others, unique.
Help children and young people understand how important it is that every child feels valued and included in school.
Be able to be themselves, without fear of bullying.
Celebrate difference and equality.
Encouraging them to take individual and collective action to prevent bullying.
Creating safe environments where children and young people can be themselves.
CTS encourage the initiative by promoting anti-bullying week within the school. We do this through a number of ways and events throughout the week, this year there will be:
Posters up around school
Challenge unwanted, unpleasant and derogatory language and behaviour.
Do not give this behaviour an audience.
Report this type of behaviour.
Actively participate in tutor time activities to support others.
Teachers have been asked to use blue backgrounds.
Wear blue Friday.
Hate crime workshops on Friday for year 7-9
Tutor time will be tailored specifically for anti-bullying week, see below for a timetable: