CTS supports Northamptonshire's Mental Health Awareness Day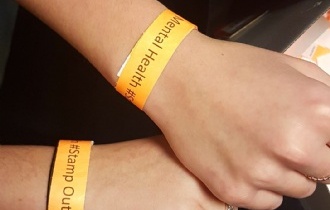 We recently celebrated Northamptonshire Mental Health Awareness Day by hosting a range of activities to promote the message 'stamp out stigma'.
Last Friday we saw Northamptonshire recognise the importance of mental health by landmarking a day filled with a range of activities to promote the 'Stamp Out Stigma' message.
Corby Technical School used the opportunity to have a week of mental health assemblies, activities and workshops to ensure the students recognised the importance of talking to others about their own feelings and supporting those who might need it.
When students arrived at school last Friday, they received a wristband that said 'Mental Health #stampoutstigma' which we encouraged the students to wear for the day to support mental health awareness as a school.

As part of mental health initiative of Northamptonshire Tessa Parkinson visited secondary schools within the county, the Joint Programme Manager of the Mental Health Stigma Programme. Her visit is part of the 'Challenge Tessa' initiative, in which she hopes to encourage more young people to speak out about their mental health issues by visiting as many schools as she can around the county in the week running up to Mental Health Awareness Day.

Students fashioned 'Stamp Out Sigma' wristbands last Friday.
Mr Bidwell challenging the students to make a promise to themselves on what they are going to do to safeguard their mental health.

Mr Bidwell gave an assembly to re-visit the pledges that our students and staff made last year to look after their mental health. He reflected with them on whether they had managed to stick to their pledges or whether they had been forgotten. A new challenge was set to our students and staff by making promises to themselves on what they could still do to safeguard their mental health, these promises are displayed on the library window.
George, a mentor from Target came in to speak to a few students from each year group about the importance of staying safe on social media. Target is a support service who come into schools to educate the students on staying safe online by using Protective Behaviours, the aim is to reduce sexual exploitation and grooming. He set our students up on a range of engaging tasks which helped them gauge a deeper understanding of what mental well-being is.

George from Target using Protective Behaviours to educate our students on how to stay safe online.

Sian, our school nurse, encouraging the students to have healthier lifestyles by giving them the keys to happier living.

The week ended with our school nurse, Sian, giving a talk in assembly to our Year 7-9 about what mental health is, the key to living a happier life and she also gave the students some resources which they could access should they need support.

Our library window is covered with the promises our students and staff have made to themselves.
Miss James, Vice Principal of Student Care said: "We are a TaMHS school therefore it is very important that we use every opportunity to ensure our students are comfortable talking about their mental health and know who to talk to should they need support. We wanted to use the #AmbitionForAll campaign to get the students reflecting on how they could live healthier lifestyles, not only physically but mentally as well."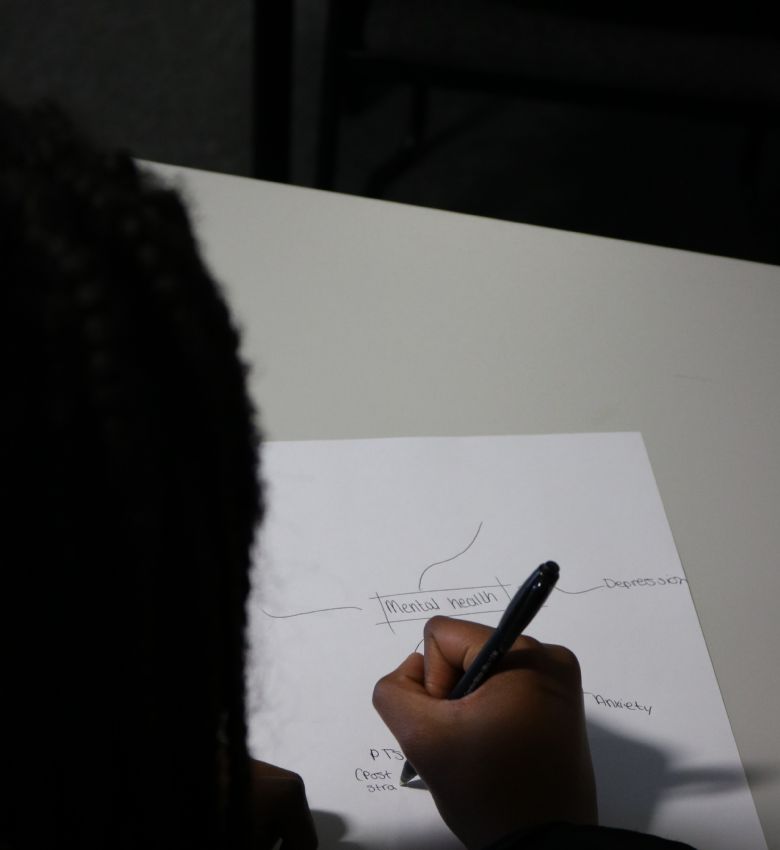 February is CTS' #AmbitionForAll month. The school has decided to embrace the #AmbitionForAll slogan, not just for academic achievement, but for wider development opportunities as well. Every department has branched out to encourage students to be the best they can be. The well-being team at Corby Technical School has decided to use mental health as a theme for their #AmbitionForAll campaign to ensure the students are comfortable talking about it. Ensuring our students are happy and content to achieve the academic results that they have the potential of achieving.