Corby Technical School takes on the classical tale of 'Oliver Twist'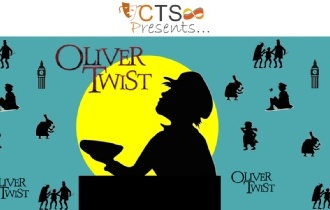 Another successful production for Corby Technical School.
We are half way through another academic year and our annual school production has been performed. This year we entered the Victorian era, performing the classical Charles Dickens' tale of Oliver Twist.

Students had been attending rehearsals for 5 months, learning their lines, working on choreography and making props each week. The hard work certainly paid off, as the students put all their nerves behind them and the two performances (21st and 22nd February 2018) went off without a hitch.

Students from all year groups auditioned for the show at the beginning of the academic year and since then had been working together on bringing all aspects of the production together including: acting, lighting, sound, costume and set design as well as prop-making.

The show started with a dramatic entrance from Oliver Twist (who was played by Brian, 7TA). His trials and tribulations of being an orphan living in poverty gets put to work by Mr Bumble (Dylan, 9T) and as a 'new boy' initiation gets made to go and beg Mr Bumble for more gruel, with the infamous quote: "Please sir, I want some more!" This doesn't go down well of course. Journeying to London, Oliver encounters Fagin (Reece, 12A), 'The Artful Dodger' (Abbie, 9C) and Charley Bates (Thomas, 7CO), learning that their intentions are to pickpocket. The production continued with a trusting, naive Oliver trying to find his way. Until he tries to pick the pocket of Mr Brownlow (Kacper, 10T) a wealthy, middle-aged bachelor. He helps Oliver to escape the clutches of Fagin and eventually adopts the boy. Oliver goes to live in the blissful, English countryside.
Our students portrayed their characters extremely well, remaining in character throughout the show. Our technical ethos continued to be at the forefront of everything we do, as we had a student production team. These students have shown an interest in lighting and sound, therefore they were behind the scenes concentrating on operating the lighting and sound boards- which they excelled at. Corby Technical School considers the interests of students and offers them opportunities to develop skills within that interest, which is exactly what was done for the school production. Our students thoroughly enjoyed all the aspects of creating and performing a show to a high calibre.
Mr Cox, teacher of Science and Drama said: "The two nights have been brilliant. The students worked hard for months and it has shown. The dedication the students have displayed has been amazing."
Asking what was on the list for next year's production, Mr Cox apprehensively said that he hopes to direct the 'Lion King'. Looking at the success of 'Oliver Twist' this year, we are sure that Mr Cox and the students would do the 'Lion King' just as much justice and we can't wait to see it already!
View more pictures of the 'Oliver Twist' production in our photo gallery.