German students visit CTS on trip to England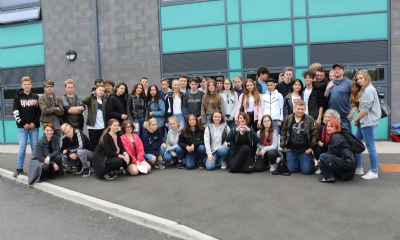 A group of German students from Velbert are on a visit to Corby this week to find out more about the town they are twinned with. As part of the trip the students visited CTS to gain an insight into what school life is like in England and how it differs from their own.
On arrival at CTS, the German students were given a tour of the school before taking part in a German and Maths lessons. In their classes the students took part in fun games and quizzes relating to the subject allowing the students to practise their language skills and get to know more about each other's culture.
CTS students Adam and Jamie said: 'Its been very fun having German students visit our school. It has made our German lessons more interactive and helped us improve our language skills as we have been able to practise speaking to students who speak German as their first language.'
Lena from CGM comprehensive school in Velbert said: ' The visit has been really nice. We thought we would find the experience more difficult than we have but the students have been very approachable and friendly. The school is very different to our own and is much more modern and open plan.'
Luna from CGM comprehensive school in Velbert said: 'I have always wanted to go visit England and get a scholarship to Cambridge University. I have loved my time in England so far and this has confirmed that I would like to study a degree in this country. Everyone has been so welcoming and nice.'
CTS German Teacher Miss Watt said: 'Our Year 9 students have welcomed the opportunity to work with foreign students. They enjoyed having the chance to listen to authentic German and communicate with different people their own age. Despite their initial fears, the students spoke German and gained confidence from their efforts whilst realising how much German they could understand and speak.'
CTS German Teacher Mr Rae-Smith said: 'It was a real honour to be given this rare opportunity for our students to be able to practice their language skills with students who talk German as their first language. The students were all full engaged and I think that by the end of the morning they realised that although they speak a different language, they have a lot more similarities than they realised with the students from Germany.'