CTS appoint student Maths Leaders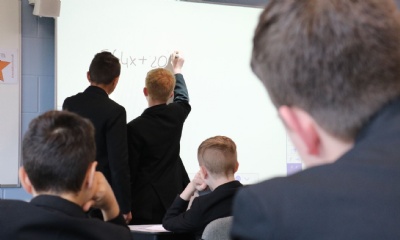 The CTS Maths department has recently appointed a group of students from Years 8 and 9 to become ambassadors for the subject.
The new roles will allow the students to take on a more active role in their learning. They will be responsible for running revision sessions, come up with fun and interative ideas to make lessons more engaging as well as support the department with key events such as transition days and open evenings.
In order to become a Maths Leader, the students had to go through an application process, explaining why they felt they would suit the role.
The successful Year 8 students first task was to run a pythagoras revision session. The students created a relay race in which students worked in groups to answer a set of questions that increased in difficulty. Year 9 students are currently looking at timetables questions to make them more engaging and fun for their peers.
Maths Teacher Mr Lee said: When speaking to my students they were really keen to have a more active role in their learning. Creating these roles will allow the students to have more control of their own learning and help them develop key leadership skills.
'Now that we have appointed Years 8 and 9 Maths Leads, we are hoping to recruit a group of Year 7 students to join the team. The students will help support the department next week for transition day and our goal is to eventually involve the students in lessons for other subjects where there is a cross over in the curriculum with maths.
'We are really excited about this new initiative. The students seem to enjoy having more involvement in the subject and it has made them increasingly proactive in their learning. I am looking forward to seeing the development and impact of the new scheme.'
Year 9 student Abbie said: 'We really want to make the subject fun for those who don't really enjoy maths by making it really engaging and interactive.'

Congratulation to our students on their new roles:
Year 8
Sam
Ana
Tamiska
Dominik
Grace
Sean
Thomas
Wojciech
Jack
Ashley
Ines
Shay
Year 9
Morgan
Abbie
Dominika
Adam
Debony
Lily