Year 11 Prom 2018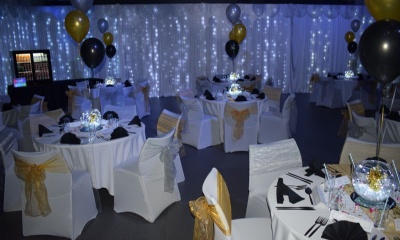 Our Year 11 students celebrated the end of their exams and GCSE studies with a fantastic Prom Night.
The students swapped their school uniforms for glamorous dresses and suits and many arrived in vintage cars, sports cars and limousines.
The school hall was transformed into a vision of elegance and sophistication. On arrival the students were served mocktails before sitting down to a three-course meal consisting of dishes such as Brixworth Pate served with ciabatta crostini, Deep-fried butterflied chicken breast in crispy panko breadcrumbs topped with mozzarella cheese and BBQ sauce and passion fruit and raspberry Pavlova.
Students had their official prom photographs taken throughout the night and were presented with awards as voted for by their peers. Students also enjoyed a disco and karaoke and had fun taking photos with props in the photo booth.

Principal Mrs Reynolds said: 'It was a lovely evening and wonderful way to celebrate all the students' hard work and effort put in for their GCSEs.'
Winners of the awards were as follows:
Most Competitive - Aaron C
Most Ambitious - Alexandra C
Most Outspoken - Chloe C
Most likely to have a hit record - Fitzgerald L
Biggest Comedian - James B
Best Personality - Keali G
Most Caring - Liam O
Selfie Star - Ryan L
Mostlaid back - Shawn Z
Loudest Voice – Tyrell A
Thank you to Mr MacLeod for taking the official photos, Mr and Mrs Docherty for providing the photo booth and disco, Paige's Elegant Occasions for decorating the room, Mr and Mrs Clarke for providing the Magician and Mr Lapsley for providing the food and everyone else who made the evening a memorable occasion.