CTS qualify for County Schools Challenge final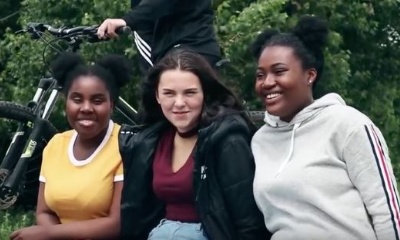 A group of Year 9 students from CTS have made it through to the County Schools Challenge final with their road safety video 'Be Sensible.'
Each year secondary schools across Northamptonshire are tasked to use a business approach to raise awareness to develop creative ways to tackle a social problem by creating a product or service. This year the project is based around road safety with the theme 'Keeping our 12-16 year olds safe on our roads.'
To become a finalist the students have gone through a tough process. The team, consisting of Kelechi, Paris and Annabelle, first presented their ideas in front of the school's STEM team and PCSO Steve Coles, in which they were selected out of their year group to represent the school at the semi-finals held at Northamptonshire's Police headquarters at Wootton Hall. Here the students presented their idea in front of a group of judges and took part in a world of work experience where they looked around the FHQ and saw exhibitions of the fire dogs and crime scenes.
Ms Moore said: The students had a brilliant day and presented their campaign well to the judges. The girls have improved many skills throughout the competition including their presentation and confidence.'
The students have now been chosen as one of the top eight teams to take part in the final, which will be held at the Castle Theatre in Wellingborough next week and have been invited onto Corby Radio tomorrow morning to talk about the project.
At the final the students will present their idea and business plan in a 'Dragon Den' format to a panel of business, public sector and community leaders. They will be judged on a criteria, which includes the relevance, innovation and creativity of their idea, their presentation and teamwork, their research and their marketing and finance plan. The winning team will be awarded £2,000 to develop their ideas into reality with the County Challenge steering group (a small group comprising Police, FRS, teachers and business personnel relevant to theme).
The competition organisers said: 'County Schools Challenge aims to encourage students to think about the causes and consequences of people's actions, and identify solutions or prevention strategies. The scheme recognises the valuable role that schools play in promoting messages that have a society-wide benefit and enables agencies to listen to and learn from young people'
The event is run by Northamptonshire Police in partnerships with Northamptonshire Fire and Rescue and Crimestoppers.
Click here to view their video.