Germany Trip 2018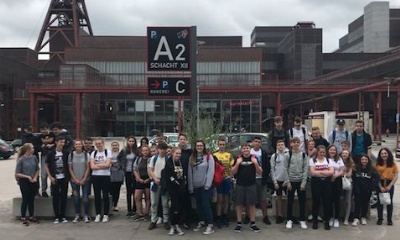 Last week our Year 9 students went on an exciting trip to Germany. They travelled by ferry and during their time in the country, the students visited a number of key historical sites to learn about the culture and were able to practice the language with locals.
After a day of travelling, the students visited the Ruhr museum on Tuesday where they learnt about the history of the local area and its large mining industry. They were then able to compare it to their hometown of Corby, which has a large steel works industry. The students also visited Essen Cathedral to get an idea of what cathedrals are like in other countries.
On Wednesday, the students went up the Rheinturm tower in a lift and experienced the incredible aerial views of the beautiful city of Dusseldorf spanning the vast expanse of River Rhine, the MedienHafen and the Old Town. They had lunch in the Schloss Ben German palace and explored the gardens.
On Thursday, the students had a fun day to mark the end their trip at the Movie Park – a movie themed theme park and went on lots of rides before making their way home on the Friday.
German teacher Miss Watt said: 'I am so proud of the students and how they represented the school. They were all so mature and socialised with German students at the hostel, playing football and talking about their interests. The trip provided them with an excellent opportunity to practise their language skills and learn more about German culture and I hope we can run the trip again next year.'
Thank you to Miss Watt, Miss Fenner, Mr Cooper and Mr Cox who helped organise and run the trip.