Students' innovative idea is turned into a children's book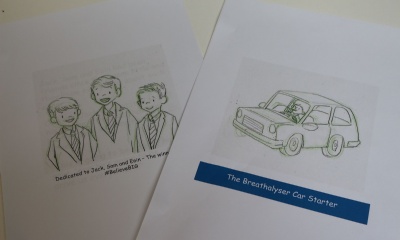 7 Billion Ideas have created a book, which follows the story of how Believe Big competition winners, Team EJS from CTS came up with their drink driving solution.
The competition, that part place earlier this year, tasked students from secondary schools across the Brooke Weston Trust to come up with an idea that could change the world. Team EJS, made up of Eoin, Jack and Sam, worked together to develop an drink driving solution. Their idea was to install breathalysers in cars, which would automatically immobilise the vehicle if someone was found over the alcohol limit.

As part of their prize, the students had their idea turned into a children's book, which has been developed over the last 3-4 months.
The students were each presented with a print copy of the book in their assembly by a representation from 7 Billion Ideas. The students then spoke to their peers about their experience of the competition and the range of skills they learnt at each stage.
Jack from the team said: 'We are pleased with how the book has turned out. It's nice to see your idea developed into a product.
'We all really enjoyed participating in the competition and have all developed many skills throughout the whole process, especially teamwork. We work really well together and used each other's strengths to help us develop our idea.'
The book is now available to purchase on Amazon, click here to purchase a copy: https://www.amazon.com/Breathalyser-Car-Starter-David-Harkin/dp/1726396533/ref=sr_1_1?s=books&ie=UTF8&qid=1536923336&sr=1-1&keywords=the+breathalyser+car+starter