Year 12 students receive Gold CREST award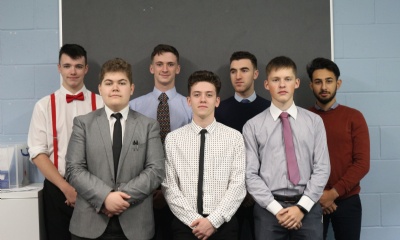 A group of Year 12 students have recently become the first students in the school to achieve the Gold CREST Award. The certificates were presented to the students at the school's annual awards evening.
The Engineering in Education scheme, ran by the Engineering in Development Trust, allowed the students to work with Tata Steel to come up with a solution to a real life-engineering problem. The students had to build a prototype, produce a detailed report, present their work to a panel of engineers and take part in an intense question session. The students have committed 100 hours over the last 6 months of their own time to the scheme, which aims to inspire young people in STEM through real life engineering projects.
Science Teacher Mr Godfrey said: The students have really enjoyed the project and learnt so many new skills. It is one of the most prestigious national awards the students could receive for their age range and is highly valued by universities and employers. They have gained a great insight into the types of projects they will be involved with at university this will really enhance both their UCAS applications and CVs. The students have worked incredibly hard throughout and I have been very impressed with their work. Tata Steel have also decided to take forward the students idea, which is such a tremendous achievement.
'Well done to all the students involved.'
Assessor's feedback:
Great work on producing this report. Good job on defining and stating the objectives of the report in great detail in the first few pages. The report and your team's logic was easy to follow. It is detailed and explains to your stakeholders the different solutions investigated and the reasons for the selected design. It was good to see that your team has given great consideration to the safety of the design.'