CTS Celebration Evening 2018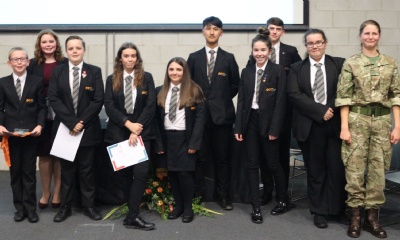 More than 100 awards were handed out at our annual Celebration Evening, which saw families and staff come together to recognise the many personal and academic achievements of our students.
The event opened with a video reflecting on the many highlights from the last academic year, which included the school's new extension, our first sixth form cohort and the Great BWT Bake Off competition amongst many more.
Individual awards were then presented to students in recognition of their exceptional achievements and outstanding progress last year in English, Media, Drama, Science, Mathematics, PE, Sociology, Psychology, RSCE, History, Geography, Art, DT, Engineering, STEM, Computing and German.
Tutor awards, our prestigious Student of the Year awards and our Special awards for students that show outstanding contribution were also handed out throughout the event.
There were also speeches from WO1 Nigel Barratt and Year 13 student Aaron T who spoke on the evening about his journey at the school since starting in Year 7. He said: 'The school has offered me so much support. The teachers have always pushed me to do my best and the school has provided me with so many fantastic opportunities. It has been a pleasure to see the school through its exciting transition period including the new extension and being part of their first sixth form cohort. I have achieved great GCSE results and am now hoping to study a degree in sports therapy and work in the football industry.'
WO1 Nigel Barratt, a former teacher at the school who now leads the Trust's CCF spoke about the amazing opportunities the school offers. He said: 'It is a fantastic school. They provide the students with so many opportunities to get involved in. If you see an opportunity, you have to grab it and the students attitude towards this is exceptional.' He then commended the CCF students on their many successes and presented a group of Year 12 students with their Gold CREST certificates, which they received for committing 100 hours of their own time to working with Tata Steel to solve a real-life engineering problem.
Principal Angela Reynolds said: "We are very proud of all of our students for their achievements. It is wonderful to be able to hold an evening like to recognise those who performed exceptionally well during the past year and share this moment with their families.'
Well done to all students who received awards.
Click here to view more photos from the event.