Macmillan Coffee morning raises over £300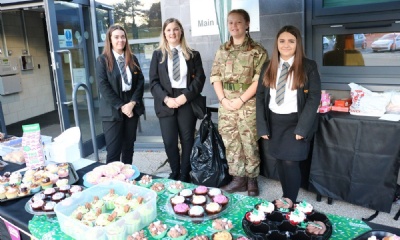 Today we took part in the World's Biggest Coffee Morning for the third year in a row and raised a total of £304.72 for Macmillan cancer support, almost doubling the £176.12 we raised last year.
The event took place outside the front of the school, where students Tamzin, Debony, Bethany and Hana helped to set up a stall selling cake to students, parents and staff.
Principal Angela Reynolds said: 'It was brilliant to see so many people get involved in the event this and I am incredibly proud of our school community and the amount of money we have managed to raise for the charity.
'Thank you to all parents/carers, students and staff who supported the event by buying or donating cakes.'