CTS students take part in TV filming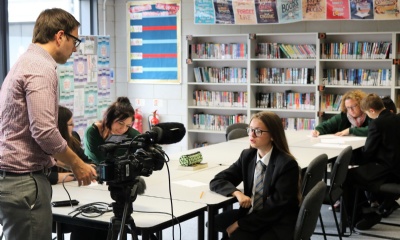 Students at Corby Technical School were filmed as part of an ongoing project they are involved in to keep children safe online.
The group are all 'Target Ambassadors' sharing information about how to stay safe online with their peers. The 'Target' project is delivered by Wellingborough-based charity, Service Six, and the crew came in to film as part of a larger piece about the charity and the valuable work it does with young people.
Project Manager Hayley Brown said: 'Service Six offers a variety of different things including our Target Project which explains some of the online dangers that children may encounter and gives them advice and information. We also offer general youth support, mental health programmes and ones preventing self-harm, so we have a wide range of work across Northamptonshire, Leicestershire and Buckinghamshire and work with young people aged from five to 19.
'The Target project is lottery funded and we train people up as Target champions because people respond best to other young people because they want to hear information from their peers primarily. The ambassadors at Corby Technical are championing online safety and telling people how to stay safe.
'ITV wanted to film some aspects of our work and so we came to Corby Technical School to show the positive and preventative aspects of our work and it will be included in the final piece which also features a case study from someone who was affected by online grooming and abuse.
'Filming at Corby Technical School highlights the positive aspects of our work. This school in particular has been amazing. We are here every week and they have been fantastic in supporting the project and getting students involved.'
The students were filmed having a training session with project workers George Tosdevin and Claire Connelly and preparing for an assembly that they were delivering about online safety.
To see more pictures click here.