Frantic Assembly for Year 9 Boys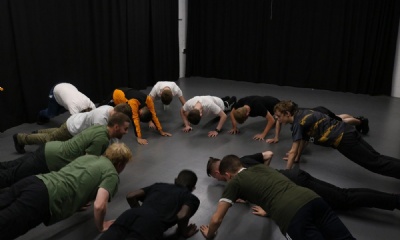 A group of our Year 9 male students recently took part in a workshop with London based Theatre Company Frantic Assembly.
The students took part in an intense warm up routine, learning how to get the body prepared for a range of physical theatre exercises and activities. The students focused on pair moves and learnt a variety of lifts throughout the session.
The workshop is targeted at young males to expose them to the arts and unlock their creative potential.
Drama Teacher Mr Cox said: 'It has been a brilliant opportunity to be able offer this workshop to the students during our Ambition for All month. We believe in exposing our students to the different industries to help them decide on their future pathways.
'All the students enjoyed the activities and got fully involve. They have gained many key transferable skills throughout the session, in particular teamwork and communication which proved crucial during the lift exercises.'