Female students inspired by STEAM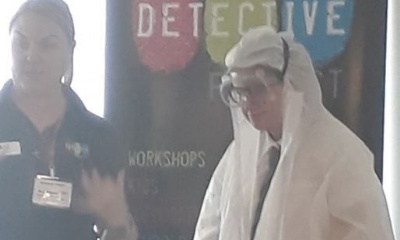 On Thursday, a group of female students from CTS took part in 'Women in STEAM', an event held at Rockingham Motor Speedway, which encouraged female students to consider STEAM (Science, Technology, Engineering, Art and Design, and Maths) based Higher Education choices by exposing them to the potential career options the subjects could lead into.
Throughout the day, the Year 9 and 10 students took part in a range of exciting workshops and activities, provided by industry experts in the field. The students had a go at building a kit kart with Max Velocity, listened to an inspiring talk from Astrophysicist Dr Rebecca Smethurst who spoke about how she turned her love of space at school into a career, explored crime scenes and forensics with the Metropolitan Police and learnt how to perform CPR.
Art teacher Mrs Morgan said: 'The day was incredibly insightful for the students who gained great knowledge of how the different STEAM subjects linked to the specific careers displayed at the event. For instance, during the Metropolitan Police workshop the students saw how art could be useful for identifying fingerprints and drawing suspects for identification.

'The students found the day really engaging as they were able to have a go at lots of practical activities. I think the day has opened the students' minds to the range of careers STEAM subjects could lead into.'
The event was organised by Big Bang, Learn by Design, NCOP Pathways and the University of Northampton.