Round up of CTS's amazing Ambition for All month!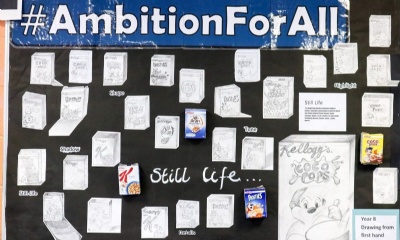 Students and staff at Corby Technical School had an action-packed Ambition for All month that included overseas trips, academic, music and arts activities along with a 'Student of the Day' award.
The focus of our Ambition for All month was a broad range of activities that add 'extra value' to our students and gave them additional opportunities. This ranged from the activity week for our Year 7s with individual and team challenges, to the CERN trip where our Sixth Formers learned about the ground-breaking physics experiments taking place at the world-renowned facility in Geneva.
Our Year 9 and 10 students took part in a range of exciting workshops at the 'Women in STEAM' event at Rockingham Motor Speedway, which encourages female students to choose Science, Technology, Engineering, Art and Design, and Math-based Higher Education choices. They listened to an inspiring talk by astrophysicist Dr Rebecca Smethurst who spoke about how she turned her love of space at school into a career.
Corby Technical School welcomed visitors including Marc Gummer who gave a presentation to our year 10 DT students about and the Leather Technology BSc course at Northampton University. Ex-RAF engineer Wg Cdr Richard Bonella gave our Year 9s an engineering challenge as part of the RAF100 event, run by the Institute of Physics. Another military speaker was former Royal Marine, Nigel Barrett who spoke about war and conflict, topics which our Year 10 students are studying in their GCSE poetry anthology.
CTS was the launch pad for an important community initiative as delegates from the local Red Box Project are encouraging people to donate sanitary products to collection points in school. The scheme is being rolled out across all our Trust schools and our students were interviewed by Heart Four Counties Radio. Student wellbeing was also a key element of Ambition for All and we supported World Mental Health Day with discussions about mental health issues and the support available within and outside school.
Some of the challenges in Year 7 activity week involved creating the tallest tower using 50 straws and 12 pipe cleaners. This was great fun and yielded impressive results. Students also took part in a 'times table challenge' where a member of each class had to battle it out in a competition with their tutor and all of the tutees came out on top with their speedy maths skills.
Maths was high on the agenda, with our Year 11s attending a 'Gain A Grade' session, our Year 8s drawing a scale model of a basketball group and students producing mathematical inspired artwork inspired by the work of Kandinsky. Teacher James Lee was commended for his presentation to colleagues at the Brooke Weston Teaching School Alliance on improving the performance of high ability pupils in the subject.
Sports was a highlight as all Year 7s battled it out in the inter-tutor netball competition. They also took part in paddle boarding, orienteering, swimming and raft-building as part of the activities week and finally Tanya, Erin, Liam and Macauley, from Years 7 to 10 respectively, were awarded PE Student of the Term for their sports efforts since September.
Special assemblies included a focus on Black History month by Mr McRae-Smith and another was by Year 12 students Denzel and Solomon. Also Year 7s rounded off their activity week with a special assembly to parents celebrating the successes.
Finally art and creative activities formed part of Ambition for All. Year 7 and 8s competed in the Masterchef Challenge, producing delicious cinnamon swirls which proved so popular they shared the recipe online. The Year 7s created posters for their classrooms as part of The Big Draw Scheme, while Year 8s drew cereal boxes for an observational project. Model making is also proving popular in the Warhammer Club, which is now so popular that librarian Miss Kidner is running it twice a week.
Finally the casting and first rehearsals took place for High School Musical, our first-ever attempt at the genre following the previous successes of Oliver Twist and A Midsummer Night's Dream. The musical take place on 27 and 28 March 2019 so put the date in your diary.
Principal Mrs Reynolds said: 'At Corby Technical School we are always ambitious and have a wide range of activities on offer for students but October was a bumper month where there were additional trips, activities, promotions and opportunities for students, particularly in technical and creative arenas. We were delighted to be the Trust torchbearers for the month and this round up shows how busy it was for us, particularly as the month coincided with our two-week vacation. Thanks to all the students and teachers who put so much extra work to make all these opportunities happen.'