CCF cadets' success at BWT Remembrance & Awards ceremony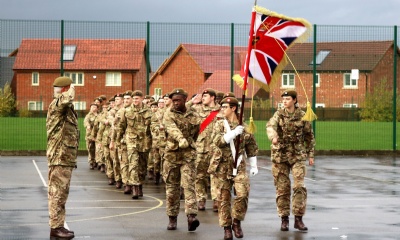 Well done to all of our CCF cadets who took part in the Brooke Weston Trust's Annual Remembrance Parade and Beret Presentation Ceremony and congratulations to those who received awards and promotions.
Two of our students, Acting Cpl Tinashe Ruzane and LCpl Jack Chisholm, received two of the special awards.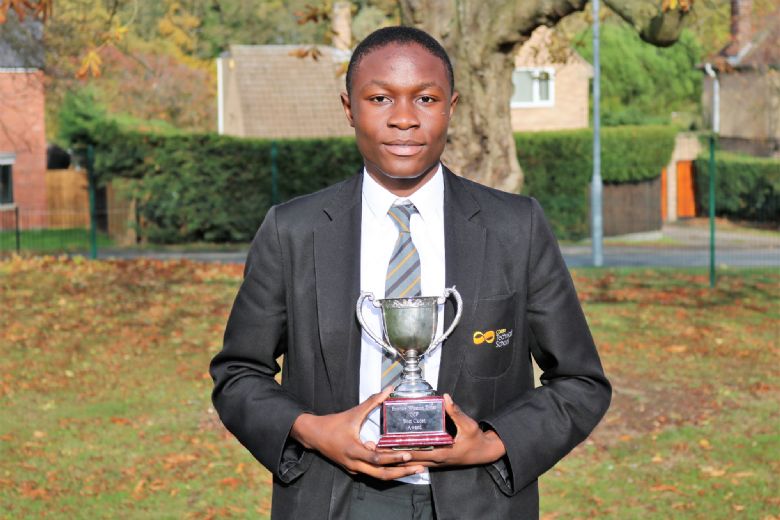 Acting Cpl Ruzane was named as Best APC Cadet while LCpl Jack Chisholm was awarded the Waterloo Shield for Endeavour. Both were unable to attend the ceremony due to school commitments and so their awards were accepted by Principal Angela Reynolds and presented in a special assembly the following day.
The Trust Remembrance Parade and Beret Presentation Ceremony, at Corby Business Academy, was watched by parents, our CEO, Principals and senior leaders from our secondary academies. The Banner of the CCF was paraded and the cadets formed up in ceremonial parade order before the wreath was placed and the Banner lowered to mark the start of a two-minute silence.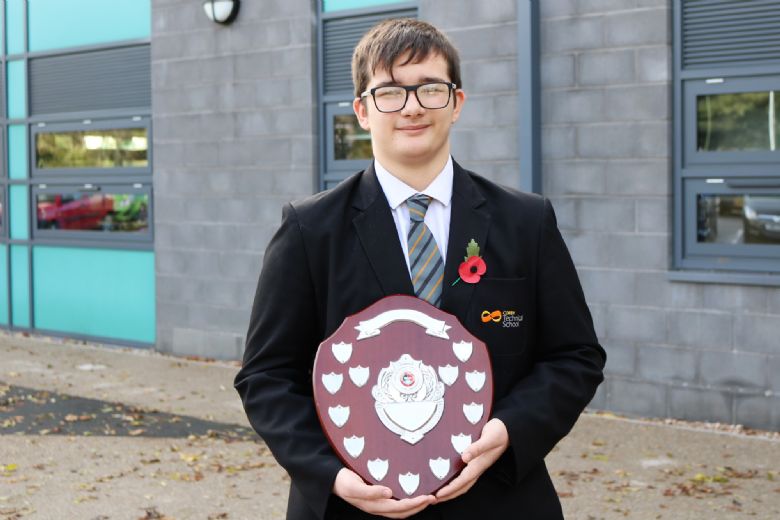 Then Contingent Commander Capt Matt Isherwood invited Mrs Angela Reynolds to present promotions to cadets moving up the ranks while Simon Underwood, Head of School at CBA, presented the newest recruits with their berets and half and full stars, which signify they have completed the basic Army proficiency course.
Following the presentations and drill, the contingent rounded off the afternoon's proceeding with a march-past and salute.
The Waterloo Shield for Endeavour was awarded to LCpl Jack Chisholm.
Capt Isherwood said: 'This has been presented to a young man who has a physical difficulty but who does not give up. It has been awarded to him for his exemplary standard whilst at camp and, in particular, for shooting.'
The Best First Year Cadet award was presented to Cdt Tate Eppey from BWA.
The Best Overall Cadet award was awarded to Cpl Tinashe Ruzane from Corby Technical School. Capt Isherwood told the audience: 'The best cadet is a real honour to achieve.'
The final award was the Infantry Cup which is given to the best military performer in the field and was awarded to Sgt Cook from Kettering Science Academy.
Afterwards LCpl Jack Chisholm from Year 11, said: 'I had no idea that I would get the Waterloo Shield. I suffer from a painful medical condition which affects my joints and back so I have had to struggle a bit more than everyone else throughout the whole year but I have definitely enjoyed it. When I am doing field weekends and activities I have to make sure that I am medicated properly and I try to push myself harder than most others. I want to pursue a career in the Army and am looking to become a vehicle engineer on the front lines.'
Cpl Tinashe Ruzane, also in Year 11 said: 'I think I got this through getting involved, helping, having a good time and making the most of the opportunity that I have been given. My favourite part of cadets is the field weekend as it takes you out of your comfort zone and is interesting and fun at the same time. I have been thinking of going into engineering in the military.'
To see photos from the Remembrance Parade and Beret Parade please click here.
Well done to our other CCF cadets who received promotions as follows:
To LCpl:
Cdt Alfano, Cdt Bhamjee, Cdt Chisholm, Cdt Crombeholme, Cdt McBeath and Cdt Lezava.
To Acting Cpl: LCpl Ruzane and Cdt Walkusz.