Boxing clever! Students learn DT skills with project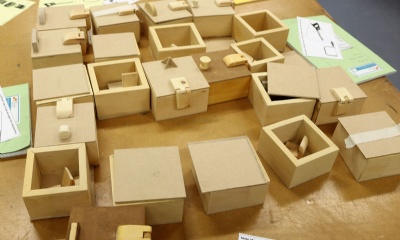 DT teacher Mr Andy Hirst is pleased with the first project that he has done with Year 8 and 9 students who have made wooden boxes using a variety of woods.
The project has enabled him to assess the skills that each student has as the project involves cutting, filing, angling and constructing different elements to make a finished box with a finger hinge and individually designed handle.
He purposely chose Jelutong, a hardwood, pine, a softwood and some manufactured board as the students experienced cutting and shaping different sorts of wood, which will give them the skills needed for more intricate projects later in their school career.
Mr Hirst said: 'The students made every element. It is about using the correct files, adjusting the height on the belt sander and working out the correct angles. The finished items are simple but effective and the students are putting their own spin on them by designing different handles. Some are using ergonomic or intelligent design, such as shaping a handle to be taller at the back as the fingers need more grip there, so they are thinking about the design elements. It is a starter project to see how much they know and we will progress from there. If they don't make mistakes then they won't know what to do to improve. It is about giving them the opportunities to learn about different processes and materials so that you can upskill them in later projects.'
Student Shaylan Mistry, from Year 9, said : 'I made the hinge using a finger joint and cut out the 45 degree angles with a mitre saw and glued it all together. I drew around a penny to get the dimensions of the handle and specially shaped it. This has been our first project in Year 9 and we will be doing coathangers and metalwork next.
Junior added: 'Previously I was really bad at cutting but in this project I learned all about it. I sanded and curved the wood to make a handle. I just need to put on a layer of oil to finish it off. '
Jayden said: 'I made my handle so it was tilted more towards the back of your fingers as I was thinking about the mechanics of it all. The whole project took about eight weeks to complete and I really enjoyed it.'