CTS Sixth Formers learn cooking skills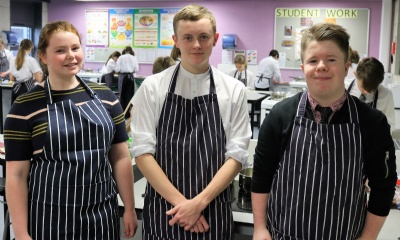 Sixth Formers at Corby Technical School are preparing for life at university by learning a range of cooking skills and basic recipes.
The lessons are being held on a 'drop-in' basis on Thursday mornings with teacher Mark Bidwell and food technician Heather Wright sharing their expertise.
Aaron Tamplin, Kara Hamer and Ollie Steadman, from Year 13, all made soup. Kara's was broccoli and stilton, Aaron's was spicy carrot and coriander while Ollie made butternut squash.
Kara said: 'I do cook at home and I like savoury stuff so this should be good. This is good for life experience in general because it prepares you for leaving home. It is a life skill, not just for uni.'
Kara is hoping to pursue her love of singing as a career and she will focus on that when she leaves school and then consider her future options.
Ollie said: 'I want to learn to survive at university because this is only my third time cooking in my life! I have made Dutch apple cake and garlic bread, and I helped Aaron make a pizza. I want to go to Northampton to study leather technology as we had a talk at school about it.'
Aaron said: 'I have some cooking experience but I think you should enhance what you already know. I have never done soup before so it is a new thing today. I want advice and recipes for when I go because I want to be more independent than just going to McDonalds everyday. I am looking at a few sports psychology courses at the moment.'
Afterwards Mr Bidwell said: 'Cooking is such an essential skill for life so we are encouraging those who are new to cooking, or who perhaps have never ever tried it before to come and have a go. We're doing cheap and healthy student recipes, such as spaghetti bolognaise and soup that they can adapt and make their own.'