Year 9 learn about dangers of knife crime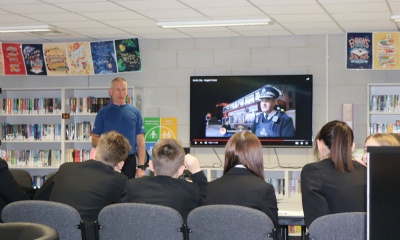 Year 9 students at Corby Technical School saw a thought-provoking presentation on the dangers of knife crime, discussed myths around it and learned how to report concerns via Fearless, a crime reporting website specifically for young people.
PCSO Steve Coles, from the Neighbourhood Policing team said: 'Northamptonshire is not the knife crime centre of the UK but, generally speaking, offences over the last few years have increased in a similar trend to the rest of the country. We need to talk about the topic, recognise the signs of this type of activity and, just as importantly, talk about the best responses.
'Realistically if young people have concerns they can contact the police or a trusted adult but we tie this presentation in with Fearless, which is Crime Stoppers for young people, and it covers everything including knife crime, hate crime, gangs and serious organised crime and people can report things in complete anonymity.
'We also bust some myths around knife crime. The biggest one is that individuals say they have to carry a knife to keep themselves safe, or to defend their reputation. Others are that it really needs to be a big blade to cause harm, girls aren't involved and there are areas of the human body that are 'safer' to stab. All of these are complete and very dangerous myths. We use a combination of fictional stories and real life case studies to illustrate the potentially fatal consequences of carrying and using knives. The simple message we want students to remember is: 'Carry a knife and who knows how many lives you'll ruin?'
To visit the Fearless website click here.