Christmas Celebrations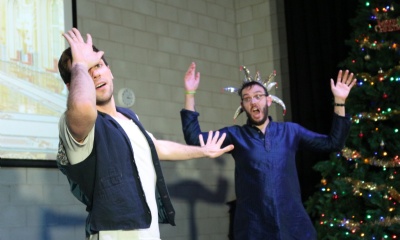 At Corby Technical School we are getting into the Christmas Spirit with a range of festive events.
Last night, we held our annual Christmas Showcase where students and staff performed a variety of acts to entertain peers and families. All families were asked to bring a food donation for Corby Foodbank in exchange for their ticket to the event.
Highlights included: the ever popular staff pantomime, a physical theatre performance of 'The Sugar Plum Fairy' by our Year 10 GCSE drama students, an extract from 'Once there was a snowman' read by student Alicia S, solos from Beth S who sang 'Hey there Delilah' and Rohan T who sang 'A Christmas song', a music video of our Sixth Form students singing 'Do they know its Christmas time' and the comedy duo Abbie and Tom who hosted the show.
Drama Teacher Mr Cox said: 'Once again the Christmas Showcase was a great success. The acts have put in a lot of hard work during their own time and I have received lots of positive feedback from parents and carers, students and staff. It was a wonderful way to get into the festive spirit in the run up to Christmas'
Students who were unable to attend the show were treated to mini performance today as part of the school's festive celebrations which also included a Christmas Jumper Day and School Christmas Lunch.
Thank you to all who donated and we wish you all a wonderful Christmas.