Students use iPads to support art and design projects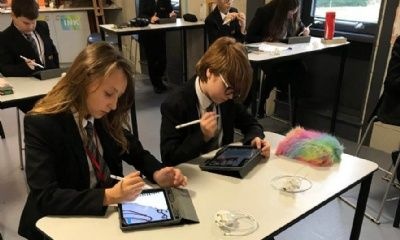 iPads have been incorporated into Year 7 art and design lessons as part of a month-long study to see how iPads can be used most effectively in schools.
In design, students have used the ipads to create a step-by-step video and evaluation of their acrylic desk holder project. Traditionally photos and written comments would be used however students have instead edited clips of each other working into a video complete with voiceover.
Art and DT teacher, Mr Cooper, who has co-ordinated the project at CTS said: 'We task our Year 7 students with producing an evaluation and a step-by-step of their work as it is good practice and prepares them for what they will have to produce for their GCSE coursework. Being able to incorporate the iPads into the lessons has really helped elevate their projects.
'Sometimes students find it hard to communicate on paper. Having the iPads has created a clearer way to communicate to the examiner their understanding of how to use tools correctly as they are able to physically see how the student is using the tool.'
In Year 7 art, students have used the iPads to showcase their Futurism inspired artwork through time-lapse videos. To create this, the students filmed themselves working during each lesson over three weeks and edited the footage together. They then sped up the footage to create a time-lapse.
Mr cooper said: 'We had the expectation that students would use the iPads to take photos of their work throughout the project but instead the students came up with the idea of creating a time-lapse video of their work.
'It was unexpected and wonderful to see the students themselves coming up with ways the iPads could be used in lessons. Its been fantastic to be able to see how the students have created their artwork over three weeks through a time-lapse and this has enabled the students to see the process and techniques others have used to create their finished piece.
'Overall I have been incredibly impressed with the high standard of work our students have produced throughout both projects. We didn't give the students many instructions on how to use the software as we wanted to see if they could figure it out for themselves.
'The cross-curricular element with media has also helped the students to develop key skills such as video editing. This provides students with an larger skills set which employers are seeking in our increasingly digitalised world.'
Videos of students' iPad projects will be uploaded to the website shortly.