Students make Toy Racing Cars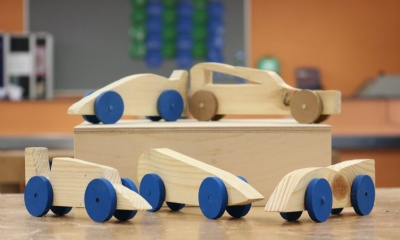 Over the past few weeks, Year 7 students have designed and made Toy Racing Cars in their DT lessons.
The project is focused on teaching the students workshop safety and allows them to learn how to use tools such as the pillar drill, coping saw and set square.
Before starting the practical element of the project, the students learnt about different wood types and trialling and testing wood.
The students then designed templates, used a coping saw to cut the aerodynamic body of the car and used a pillar drill to make clean straight holes for the wheels. Once they had finished the form of the car, the students had to seal the wood with two different sealants due to the different wood types used. They then used clear wax to finish the body and a two step process of wood sealant and paint on the wheels.
To end the project the students were able to test out their racing cars to see whose was the fastest.
Director of Technology and Art Mr Hirst said: 'The project is designed to help build students' confidence in the workshop and when using the tools. The students have really enjoyed making the cars as well as the extra element of being able to test them out to see if they are fit for purpose.'
A group of Year 7 students said: 'We have previously made badges and tickets but this our first big project since starting CTS and the first time we have used some of the larger machines. We have all learnt a lot and feel much more confident using the machines now. When we first started they seems really scary but now we know how to use the machines safely. It has been really fun making the cars and getting to test them out.'