Students create 'a scene in a box'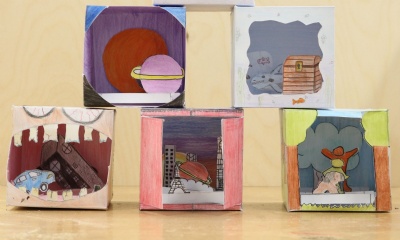 Year 8 students have recently been working on a 3D project, creating 'a scene in a box'.
The students learn how to create 2D nets and turn them into 3D objects. They used craft knifes, steel rule, cutting mats and safety rule to measure, cut and create their nets. The students also learnt about paper engineering to use cuts and slits to create the scenes which sit inside their box.
The students came up with their own designs for inside their boxes and themes included space, Doctor Who and under the sea.
Director of Art and Technology Mr Hirst said: 'The students had to be incredibly accurate throughout the project in order for their boxes to form correctly and for their scene to line up.