Students visit engineering company to learn about technology developments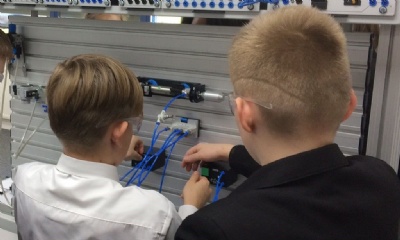 A group of Year 7 students visited FESTO Applied Automotive Centre in Northampton to gain an insight into the development of technology.
During the trip, the students explored pneumatic engineering applications and robots in the workplace by making pneumatic circuits and looking at how these are employed in automotive applications.
Vice Principal Linda Arnold said 'We organise the trip annual for our Year 7 students because we think it is a great introduction to our technical ethos at CTS and links into our STEM sessions.
'The students gained an insight into the applications of robotics in the industry and have seen how FESTO use nature to inspire their development of technology. I hope this will help give the students a few ideas when they are creating their own designs in DT.'