CTS hold Believe Big final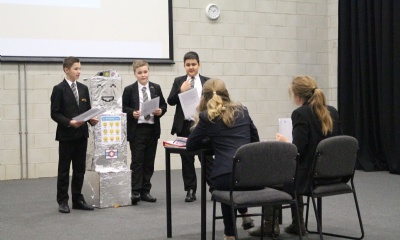 Today, Year 8 students presented their Believe Big 2019 life-changing ideas to a panel of judges for a chance to represent the school at the Trust Finals.
Students have been working on developing their ideas and presentations during their STEM lessons. They have created prototypes as well as marketing materials such as posters and jingles.
The students presented these to a panel of judges consisting of Science teachers Christine Kritzinger and Chloe Coulson.
Students ideas included blood clot prevention vaccines, an Elderly Person Assistant robot, a rubbish collecting submarine to stop ocean pollution, a medical bracelet to alert the user of medical issues with blood sugar levels and heart rate, a home cinema devise and specialist games controller for amputees.
Director of Technology and Art Mr Hirst said: 'The students have created a variety of innovative ideas. It is wonderful to see them developing ideas which focus on saving lives and helping the environment.'
The winners will be announced after the half term and the Trust finals will take place at the Corby Cube on 3rd April.