CTS win Northants County Schools Challenge with knife crime game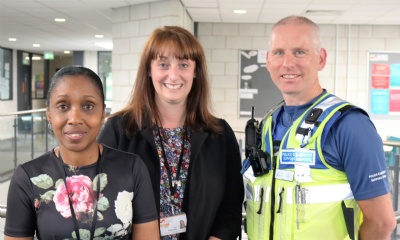 A team of students from Corby Technical School was crowned this year's winner of the Northamptonshire County Schools Challenge with their invention, a card game that raises awareness of knife crime.
As well as a trophy, the prize-winners will also receive a budget of £2,000 to turn their game, STALK, (Stop Taking Away Lives with Knives) into a reality.
The County Schools Challenge is an annual competition where schools are invited to submit original solutions to anti-social problems. Eight teams of semi-finalists presented their ideas in a Dragons' Den forum where the Police and Crime Commissioner, Chief Constable, and Chief Fire Officer were among the judges.
It is a hard-fought competition. This year 31 schools took part, 21 entered the competition and the final eight made it through to the finals at the Castle Theatre, Wellingborough.
Corby Technical School's team comprised Grace, Joel, Rhys, Rio Sam. Unfortunately the majority were away on residential in Germany for the final, so Joel stepped up and did the presentation, along with Holly from Year 8. Our students were also contacted via Skype so that they could also talk to the judges about their invention.
They were encouraged throughout the project by PCSO Steve Coles and Student Support Officer Monica Moore. Miss Moore said: 'They have worked really hard every single day, in tutor time and being released from lessons. They also recorded a video. Their strengths have been their research and getting the team together because they all had different roles. Joel and Holly really stepped up and did a good presentation, especially as the rest of the team were away.'
PCSO Coles said: 'The competition has covered a whole range of issues and this year the challenge was to raise awareness of knife crime. Every secondary school in the county is invited to take part and the important thing is to engage with those thousands of children.
'The standard was the best that I have ever seen in the competition's 10-year history. I thought it was a tough choice for the judges. Corby Technical School came up with a card game, a simple but tangible idea. The team said "this is our product, this is our business plan and this is why we think this is a good idea." That was a big strength. It is realistic, sustainable and original because the students love playing with these cards.'
Corby Technical School's Principal Angela Reynolds said: 'I am really delighted with our team. This is the first time that our school has won the competition and the team has had really strong leadership. What I am most impressed with is their commitment to the project, skyping in from Germany. They have worked as a wonderful team and I would also like to thank Steve and Monica for all the help and support they have given to our students over the last few months.'
Student Joel said: 'We put a lot of hard work in and I think we won because the idea was unique. When people play our game they will realise the consequences of knife crime and it will make them think about it.'
Well done also to Kettering Science Academy who were runners-up with their idea of putting stickered messages onto trainer boxes to raise awareness and Rushden Academy whose interactive game was placed third.