More A Level successes at Corby Technical School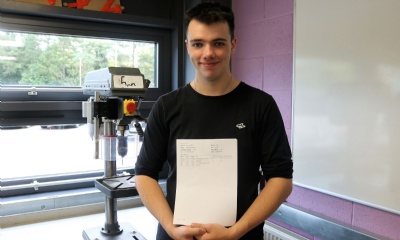 Corby Technical School is very proud of its first cohort of A Level students and their aspirational plans for the future. Here's what some of them are planning next:
Jessica Christensen, who was awarded Bs in Maths and Computer Science and a C in Biology is going to study Computer Science at Newcastle. She said: 'It is a nice city and the facilities for computer science are good. Eventually I'd like to work in something like software development. I didn't expect these grades so I am really pleased.'
Malika Brown achieved a B in Media studies, C in English Language and a Psychology A Level. She is going to De Montfort University to study criminology. She said: 'I was looking at courses and got really interested in the police area. I didn't want to do policing because that is such a niche degree so I went for criminology because then I can get to study psychology as well because that is my favourite subject. That way I could fit all of my interests into one degree and then think about what I want to do afterwards. I wanted to go to de Montfort because it is not too far away and I am definitely most pleased about my English result.'
Ross Dick is going to study Motorsport with Automotive Engineering at Coventry University. To get his place he gained a B in Maths and DT Design Engineering, a C in Physics and an A Level in Further Maths.
He said: 'I am really looking forward to it. It is a three year course with a whole combination of everything in motorsport from the engine, suspension, aerodynamics and thermodynamics. I have always had a passion for motorsport and racing cars and my dad is a mechanic so my interest sprang from there. I was looking to go into mechanical engineering as a more general degree but I saw this automotive engineering course which was brilliant as it is what I really wanted to do.'