Students investigate Corby's historical heritage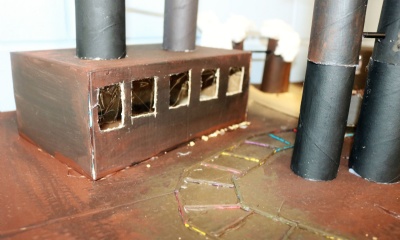 Year 7 students created imaginative and dramatic models of Corby past and present during a homework project on local history.
The students had discussed the town's heritage and growth, including its industrial links and the more recent regeneration of the town centre. They chose an area of interest and produced documentation and models to support their classroom work.
Teacher Emma Hopkins said: 'The project was to learn about the cultural background of Corby and the students produced different models including an Andersen shelter, a replica of the Corby Cube and one which lit up and showed the steel production process. A couple of the students also went on a field trip to Kirby Hall and documented it with photographs.
'Investigating local history is a very important part of the curriculum and helps students to understand the development of the town, local economy and population. The models were of a really high standard and clearly showed their knowledge of, and engagement with, the topic.'
To see a full gallery of photographs click here.