CTS students plan for their future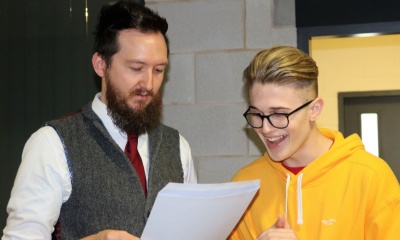 Here's more happy students from CTS who are thrilled with their exam results. Here's what they are planning next:
Lewis (above) achieved five 8s, three 7s and two 6s.
He said: 'I feel ecstatic right now as I wasn't expecting these grades but I pulled them out of the hat! I am most proud of biology as I worked immensely hard for that. I have got up a whole grade from what I achieved before. I put that down to my teacher Mr Cox, who has been so instrumental to me doing better. He has found the gaps in my knowledge and has filled them so directly and so perfectly to bridge my knowledge in that subject so it has just gone perfectly.
'I am moving on to A Levels and will be taking physics, biology, chemistry and maths and I'd like to move on to paediatric surgery. I have had a lot of experience of not being very well in hospitals and it has really inspired me to want to do that in the future.'
Bethany achieved two 7s, a 6 and four 5s.
She said: 'I am most proud about my 7s in both English exams. I worked really hard for those. I am going on to do childcare at college.'
Caitlin was awarded a 7, three 6s and five 5s.
She said: 'I am most happy with my 7 in maths. I am going to study at Sixth Form but have no idea what I want to do, I will let the results sink in first before I decide. I enjoyed geography, history and sociology.'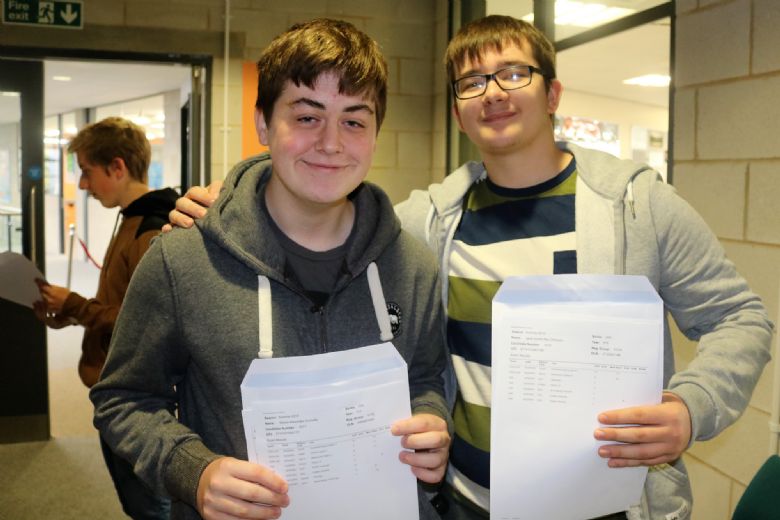 Kieran (left) said: 'I am happy with what I got which were 5s in Science and 6 and a 5 in English, 6 in Maths, 5 in history, 5 in media and 4 in German. Hopefully I want to get into Sixth Form but if not I'll go to college.'
Jack (right) said: 'I got 4s, 5s and a 6 in English Language. I am most happy about my English Language and I am completely happy about how I did in maths and science because those are my stronger areas. I got 5s in both. I am going to college to study biomedical science because I am hoping to pursue a career in it.'