Gustave becomes Arm Wrestling Champion in first ever competition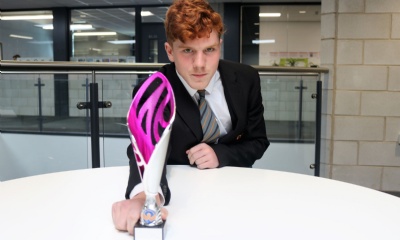 Congratulations to Year 9 student Gustave Smalley, who has won a national arm wrestling title in his first-ever contest.
Gustave brought home the U-16 'Right Arm Supermatch' trophy in the Leigh Pulling Power Farm Wars 5 2019, held in Manchester. He was matched with another top competitor in the junior round where he had to pin his opponent three times out of five to win.
Gustave has been involved in the sport for three years as his dad is a keen arm-wrestler and he trains at a club in London which his dad set up.
He said: 'Most people would say it is about strength but I see it as technique and the way you control yourself and the table. My dad formed a club, the Slough Slammers and there's a few people that I train with, like Tom Holland who came second in the World Arm-Wrestling League.
'At the moment I am matched with people of a similar age, but once you are over 18 it is about weight categories. My dad competed and won a Right Arm trophy as well! Sometimes you think there's a specific technique that you like but there is always room to develop different moves.
'It is about keeping composure and your focus on that one goal, to try and get him on the pin or weaken him out. You can pin anywhere from the wrist to fingertips. In a starting position you are not supposed to bend your wrist but sometimes people try their best to get an advantage.
'I was very happy to get the trophy and my dad was happy that I won my first competition. I am hoping to do more if I can find any other junior competitions or maybe adults who are willing to compete with someone my age.
If people are interested in starting the sport then I would advise them to join a club. Personally I wouldn't do arm wrestling unless you know what you are doing because you could break an arm quite easily as you create tension where the bone meets the bicep and it could snap! Once you know what you are doing then it is a good sport. It is fun and the kind of thing you can do in your spare time.'