CTS students meet author and illustrator Chris Riddell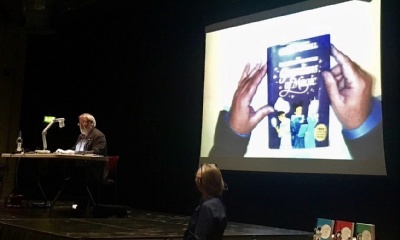 Students from Corby Technical School were thrilled to meet noted illustrator Chris Riddell when he visited the area to talk about his latest book.
Mr Riddell, who was Children's Laureate, has also won the prestigious Greenaway Medal three times for his illustrations and is the political cartoonist for The Observer.
He spoke to around 380 students at Corby Business Academy and students from otherTrust schools Beanfield, Gretton, Kettering Science Academy and Thomas Clarkson Academy were also invited along.
Corby Business Academy's Librarian Amy McKay said: 'Chris is one of the biggest author illustrators for young people in this country and he is very impressive so when we got the phone call to ask if we would like him to visit we nearly bit their hand off! Chris is promoting his new series, Cloud Horse Chronicles, the first of which is Guardians of Magic.
'There were lots of students there and Sixth Formers who have grown up reading Chris's books who got very excited at the prospect of meeting him. He was mesmerising as he live illustrated as he talked. He used pencils and just drew pictures as he was talking. It was just incredible.
'He chatted in general, talking about how he sketches. He spoke about his life as an illustrator, about the new book and talked about the creative process and how he works. He read a few poems out and all the time he was illustrating while talking. It was the first time he has been here and we would have him back in a heartbeat. He was so generous with his time, signed books for two hours and so many students got individual illustrations.'
Later that day Chris also promoted a new poetry anthology at Corby Cube, an event which attracted another huge audience.