CTS students learn new woodworking skills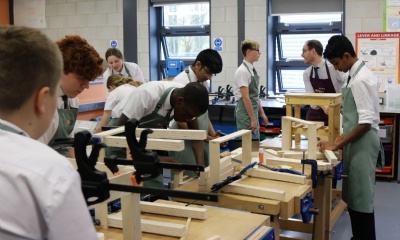 Design Technology students at Corby Technical School are using a variety of techniques to make their own coffee tables, including cutting, laminating and jointing.
The Year 9 students will take around ten weeks to complete their tables which they will personalise by finishing them with stain, varnish, oil or wax. They will also make matching coasters using Computer Aided Design.
Teacher Andrew Hirst said: 'The basic construction is from plywood which is joined using dowels and finger joints. However the real process is applying the finish to the product and also using different methods such as laminating the wood for the legs using glue and clamps.
'This project is very hands on as the students are using more advanced equipment such as hand held drills and jigsaws which they will need to use in future projects. The students are at an age where they need to have products that are useful to them and their parents and hopefully the tables and coasters will be finished by the end of this term. I am really pleased with the mature way that the students are tackling the project, the way they work well together to overcome problems and the quality of their work so far is very impressive.'
Student Cerys said: 'This project teaches you how to do woodworking properly. I am pleased with the joints I made as I filled in any little gaps with wood and glue to make them neater.
Kelly added: 'This project is quite difficult and teaches you a lot of skills, like making the whole piece look aesthetically pleasing.
Grace said: 'I really liked laminating the wood as it was something I didn't know about before. It looks good and didn't take long to do.'
Sai said: 'I like how practical the project is because you get to use lots of different types of equipment.'
To see a gallery of pictures click here.