CTS students see award winning poet and author Kwame Alexander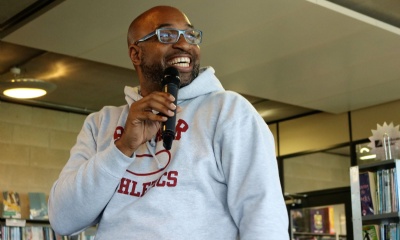 Award-winning and best-selling American poet and author Kwame Alexander gave an electrifying performance to hundreds of students from our Trust schools and beyond.
Kwame is a New York Times bestselling author with 33 titles to his name. His work has won both the Newbery Medal in America and was shortlisted for the Carnegie Medal in England this year; both are hugely prestigious prizes in children's literature.
He, along with his sidekick and friend, Randy Preston, who provided musical accompaniment, kept the audience at Corby Business Academy rapt for an hour-long talk when Kwame outlined his career, love of poetry and did a huge amount of audience participation.
Kwame attended Virginia Tech College, with renowned poet Nikki Giovanni as his professor. 'I kept writing and before you knew it I had written 14 books of poetry.' He was approached to write a fiction book in verse about a boy who played basketball, but it was rejected by many publishing houses: 'You can't let other people's noes define who you are. You've got to say "Yes" to yourself. In that moment I decided to publish it myself and, a week later, I got an email from a publisher who said they would be honoured to publish the book.'
After touring the world doing book readings he heard that his novel, The Crossover, had won the Newbery Medal which is awarded to the author of 'the most distinguished contribution to American literature for children.'
Kwame said: 'I thought would I be getting this call from the Newbery Committee if I had actually given up after the first time, or the fourth, the 11th or the 18th? We are all going to be told "no" in our lives. The cool thing about no is that once all the noes come into your life, and they are gone what is left? Yes. You just need one yes, but you have got to remember to believe in yourself and never let other people's noes define who you are.'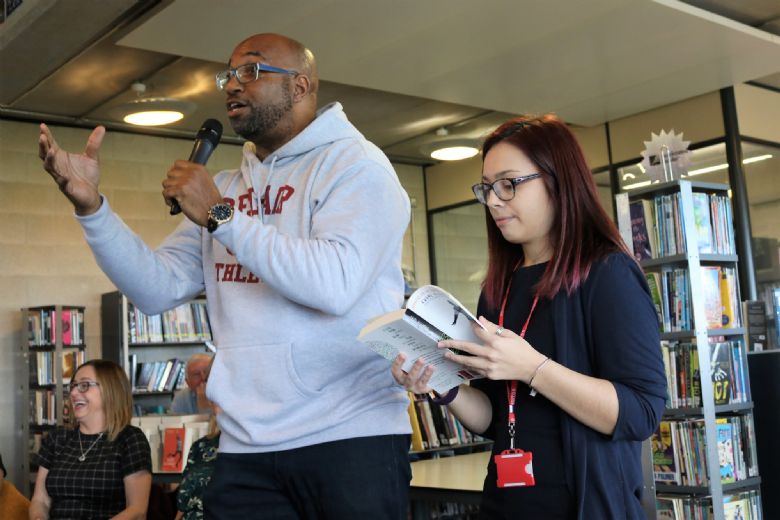 He read extracts from his work, 'Surf's Up', did a rap with Jodie Kidner, the librarian from Corby Technical School and held a poetry competition with four students.
He also took part in a question and answer session where he was asked about inspiration for stories: 'I'll give you three places you can find ideas: Read. You can find ideas in other books. The second place to find ideas? Read. The way you can become a better writer is by reading other people and … the third place you can find ideas? … You have probably never heard of this: Read!
'I had so many stories in my head and I wanted to get them out on paper because I felt like I had something to say. I try to surround myself with people who are "say yes" people. I want to have people who believe in the power of "yes" around me. I always want to inspire others. We have to lift each other up and make the world more beautiful. Young people like you are the ones who are going to do it. Where you are going to learn to imagine it better is in the pages of a book.'
He ended the session by getting the audience, comprising students from our Trust secondary schools, Compass Primary and Lodge Park Academy, to sing his poem and mantra for life: 'Be A Star/In Your Mind/Day and Night/ Let It Shine.'
Afterwards Corby Business Academy's Librarian, Amy McKay, said: 'It has been a huge privilege to have such a world-renowned author at our school. In the morning he spoke to 160 CBA students, from Years 7, 8 and 9 when he read his recently published Undefeated. Undefeated is a poem he wrote about Black History, the poem is as incredible as you'd imagine and the book is full of striking illustrations by Kadir Nelson. I've been lucky enough to hear Kwame read it three times now and have shed a tear each time. It's been nominated for the 2020 Greenaway Medal. Students in the first talk were from Years 7, 8 and 9.
'In the afternoon we were lucky enough to invite other schools to hear another amazing presentation about his life and poetry. This was an unforgettable experience that left all of the students absolutely buzzing. Kwame was very generous with his time, talking to them, posing for photographs and signing books. I would also like to thank his UK publishers Andersen Press, for arranging this visit from such a high profile and in demand author.'
To see more photographs of the event click here.