Artist talks to CTS students about Polar adventures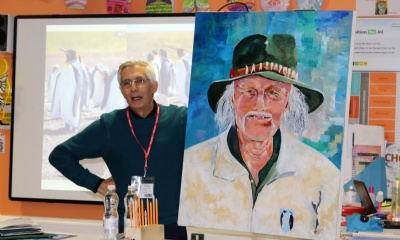 Artist and adventurer Charles Bezzina gave an inspirational talk to Year 9 students at Corby Technical School about his polar adventures which saw him living with Inuits and painting in both the Arctic and Antarctic.
Charles, a former engineer, started painting professionally full time when he was 49: 'I decided to live my dream - Determination, Respect, Enthusiasm, Aspiration and Motivation. I walked the Sahara Desert for ten days as a challenge for charity and it was then that I realised I had to do something about my dream of being an artist. I enrolled at university to do my art and teaching degree. I graduated in 2004 and did some teaching but I wanted to do something different. I approached the Arts Council and set up a project with the title 'In Search of Ice Made in Heaven.' I was fortunate enough to live on four occasions with the Inuits of Greenland to find out what is happening in the landscape. What happens there with the weather affects us here. The Arts Council supported me with an award so I had to justify every penny, every painting, every lecture.'
He showed the students examples of his artwork in mixed media including oils, watercolours and acrylics. He reinforced how important sketchbooks are for artists and the students saw examples of his sketchbooks, as well as paintings he had created on long sheets of lining paper. 'A sketchbook is the most important thing for an artist. They don't have to be finalised pieces, they can just be references.'
'From 2004 until last week I have been up to the Arctic every year, sometimes for up to eight weeks and sometimes for three times in a year. I was invited to go and paint and interpret some of the landscapes. One lesson I learned hard, and very quickly, is never take Mother Nature for granted!'
He spoke about how the landscape is changing and that global warming has led to dramatic changes in the quantity of ice and icebergs in the region. He showed students examples of his paintings of Tromso Cathedral, known as the Arctic Cathedral, where temperatures can drop to minus 20, the Northern Lights, icebergs and glaciers. He stayed at a remote cottage to paint and hired a dog while painting outdoors to deter polar bears! He also visited the Falkland Islands and he showed the students pictures of the wildlife and residents in the South Atlantic.
Art teacher Emma Morgan said: 'It was a pleasure welcoming Charles along and he was very generous with his time and paintings. He brought many examples of his work in for students to see and really captured the wild landscape, changing light and wildness of the landscape in his paintings. He was a really inspirational speaker and is a great example of how you can make a career in art and live your dream.'
Afterwards careers lead Dan Rogers said: 'This was a great opportunity for our students and we are hoping to introduce visitors and talks in lots of different subjects so that students can expand their horizons and really see the careers that are possible by pursuing subjects that you are inspired by.'
To see a gallery of pictures click here.